Unfolding Covenant History: An Exposition of the Old Testament: Volume 6: From Samuel to Solomon (Hardcover)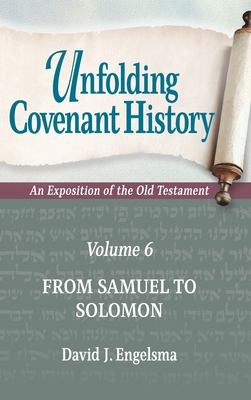 $30.40

Warehouse, In Stock | Usually Ships in 1-5 Days | New
Description
---
After a fifteen-year hiatus, and fourteen other published titles, Prof. David J. Engelsma continues the Unfolding Covenant History series, a covenantal exposition of the Old Testament.
The Old Testament history covered in this volume is extensive, covering the account of the life and significance for the covenant of Samuel, Saul, David, and Solomon. This is the history recorded in 1 and 2 Samuel; 1 Kings 1-11; 1 Chronicles 10-29; and 2 Chronicles 1-9. In addition, the volume takes into consideration other passages in scripture (Psalms) that reflect on this history.
This history is also rich in significance with regard to the development of God's covenant and covenant dealings with his people. It includes the institution and early functioning of the office of the prophet; the institution of the office of king; the stark contrast between the people's choice as king, in the charismatic, but reprobate, Saul, and God's elect, David; and the realization of the fellowship of the covenant in the Old Testament in the temple. Among the fascinating and controversial events of the history on which the volume sheds light is the appearance to Saul of the "witch of Endor."