Why Is Drama Always Following Me? Teacher and Counselor Activity Guide: Volume 5 (Paperback)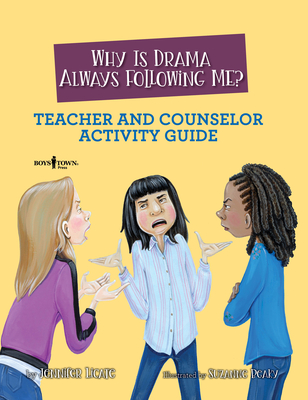 List Price: $19.95
Our Price: $16.96
(Save: $2.99 15%)
Description
---
This teacher and counselor activity guide supplements theWhy is Drama Always Following Me?chapter book, a thought-provoking and insightful exploration of the ups and downs of middle school friendships, particularly among girls.
True-to-life situations and practical strategies for dealing with friendship drama are described in depth. The guide pairs text from the story with probing questions and creative activities that allow teachers, counselors, or group leaders to engage students in meaningful discussions about betrayal, envy, lies, conflict, open-mindedness, forgiveness and other issues related to friendship. After reading the story and completing the activities, students of all ages will be empowered to examine the quality of their friendships, identify patterns of behavior that can potentially harm their relationships, and improve their social communication skills. Why is Drama Always Following Me? Teacher and Counselor Activity Guide is the fifth title in the popular Navigating Friendships book series by school counselor and award-winning author Jennifer Licate. The series features chapter books and supplemental activity guides designed to help middle school students navigate changing friendships, advocate for themselves, and get along with others. The series includes
He's Not Just Teasing
,
I Lost My BFF
,
Am I Weird?
, and
My Anxiety is Messing Things Up.
About the Author
---
Jennifer Licate is an award-winning children's author who has worked as a school counselor for more than a decade. Counseling children of all ages (as well as raising two kids of her own) has taught Jennifer a universal truth: all children want to be loved, valued, and respected for the unique individuals they are. She channels this truth and her love of counseling and creativity into captivating stories that help children navigate the challenges of growing upShe is the author of the award-winning Navigating Friendships series which feature compelling young characters who are learning how to fit in, overcome fears, and find inner strength.