The Cheapskate's Handbook: A Guide to the Subtleties, Intricacies, and Pleasures of Being a Tightwad (Paperback)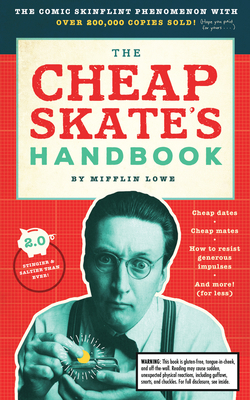 Description
---
Packed with hilarious observations, unusual tips, and the stingiest advice money couldn't buy, TheCheapskate's Handbook is the perfect gag gift for your favorite miser—who might just be you. Skinflint Mifflin Lowe invites fellow cheapskates to come out of the closet in a celebration of all things free, complimentary, pro bono, and if need be, cheap. With advice on everything from avoiding generous impulses to creatively bumming off your neighbors, plus delightful watercolor illustrations, hilarious photographs, and Mifflin's own "Miser's Aptitude Test," The Cheapskate's Handbook will have you laughing and saving money at the same time. What a deal!
About the Author
---
Author, singer, songwriter, and musician, Mifflin Lowe has had six books published, which have sold over 300,000 copies in 4 languages. His books include a children's poetry book, Beasts By The Bunches (Doubleday) and three humor books for adults: The Cheapskate's Handbook, I Hate Fun and How To Be A Celebrity (Price/Stern/Sloan.)
Praise For…
---
"I'm recommending this hilarious book to all my friends. In fact, I'm hoping to borrow it from them."
—Hayes Davenport, writer on Family Guy
"I never want to follow you on TV. You're too funny."
—Erma Bombeck, American humorist
"King of the skinflints!"
—Joe Berger, National Enquirer
"The 2.0 reissue of local author Mifflin Lowe's book, The Cheapskate's Handbook, comes with a well-earned warning: 'This book is gluten-free, tongue-in-cheek, and off-the-wall. Reading may cause sudden, unexpected physical reactions, including guffaws, snorts, and chuckles. For full disclosure, see inside.' The warning is well-earned because this book is fun. Whether you truly have some Scrooge in your DNA or not, it's hard to take the Miserliness Aptitude Test (page 5), explore the Roommate Fee List (page 30), or read the 'How to Avoid Taking Your Spouse or Significant Other to a Movie' chapter and not crack a smile. Or more.
Lowe is irreverent, silly, and quite often over the top. He also stars in many of the photographs, from the book cover to the aluminum foil ironing on page 230, that's him!
It's an enjoyable book whether you read it cover to cover or plunge in for a laugh here and there. Some of my personal favs? Chapter 4.2 (Extended Family: Do You Really Want to Know These People), Chapter 5.2 (You're Not Getting Older, You're Getting Cheaper: Growing Old Disgracefully), and Chapter 6.6 (Partying: Such Cheap Sorrow). Don't worry, too, about this being outdated. It's a 2.0 edition, after all, so he gives you the cheapskate view on Uber, Lyft, Miley Cyrus, and more.
Read frugally, and maybe one day you might make it into Lowe's Cheapskates Hall of Fame!
4.25 out of 5."
—Ryan G. Van Cleave, Sarasota Scene