Girls Like Me (Paperback)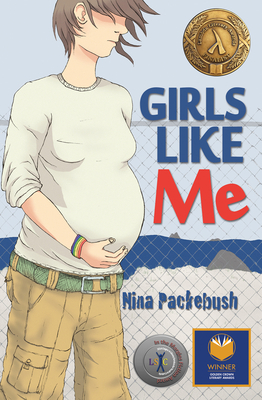 $17.19
This item is backordered and not currently available. Please contact us for an estimated availability date.
Description
---
Sixteen-year-old queer-identified Banjo Logan wakes up groggy in a juvenile mental ward. She realizes that the clueless therapist and shiny psychiatrist can't help her come to terms with her genderqueer boy/girlfriend's suicide, much less help her decide what to do with the fetus that's growing inside her or answers the question of why she cuts. She's befriended by two fellow patients—a strange and slightly manic queer girl and a shy, gay boy disowned by his born-again Christian parents. Girls Like Me is the a powerful coming of age story of a pregnant gay teenager who realizes that friends may make the best medicine.
About the Author
---
Nina Packebush is a grown up queer teen mama, zinester, mental health advocate, audio producer, and wannabe urban farmer. She lives in Washington state with her rad girlfriend, a bunch of children, and way too many animals. She's passionate about supporting queer youth and teen parents, loves hiking, and likes to draw comics about empowered snails. She has been published in a variety of alternative magazines, websites, and anthologies.
Praise For…
---
"It's not just that I 'couldn't put it down' and that I felt I was physically there with Banjo and her friends every minute of their journey through adolescence, their search for their identity and their increasing awareness of themselves and the world, but also that this story is 'singing my song' of girls like us who have or will traverse a similar journey and who desperately need this book. Stunningly important." —Katherine Arnoldi, author, The Amazing True Story of a Teenage Single Mom and All Things Are Labor

"Nina Packebush is the real deal. Like an alchemist, she uses stark and poetic prose to transmute grief and hard luck into pure golden magic. Honest, lyrical, and as in love with the ugly as the beautiful, Packebush's hotly-anticipated debut novel is sure to become an instant classic." —Ariel Gore, author, Breeder and The End of Eve; publisher, Hip Mama Magazine

"From page one, Girls Like Me is a novel that grips onto your mind and heart and won't let go. Nina Packebush has created a world equal parts tragedy and magic that illuminates what it's like to be a queer teen searching for love and belonging on the margins of heteronormative society. Through the unfolding of Banjo's story, Packebush humanizes the struggles that queer and gender non-conforming youth face – very real and understandable struggles that are often wrongly pathologized in our mental health system as 'illness.' Packebush also does not shy away from traditionally taboo topics such as self-harm and suicide, creating a much-needed opportunity for youth to explore subjects that are so rarely discussed with honesty. Her stories also poignantly illustrate how our deepest healing happens in relationships with those we love and trust. This is a book that I dearly wish I had been around when I was a disaffected teen struggling with suicide and mental health issues." —Leah Harris, poet, storyteller, and intersectional activist

"It is groundbreaking in that it combines teen pregnancy issues with gender binary. No other known YA novel has approached this complex dynamic. It is mindful of unacceptable language and contains no illicit or graphic scenes, an excellent choice for collection inclusion in public, school, and classroom libraries." —Sabrina Carnesi, 

"Nina Packebush is interviewed for writing 'The first young adult novel to explore the life of a queer pregnant teenager.'" —Psychology Today, interview: https://www.psychologytoday.com/us/blog/women-and-happiness/201802/young-queer-and-pregnant

"A summary of Girls Like Me is the lead in for an article about why some LGBTQ girls at higher risk of becoming pregnant." —Interview, https://www.centerforhealthjournalism.org/

"Nina Packebush is interviewed as a part of the In The Margins Book Tour." —https://www.cecilywolfe.com/