Pearl of the Sea (Paperback)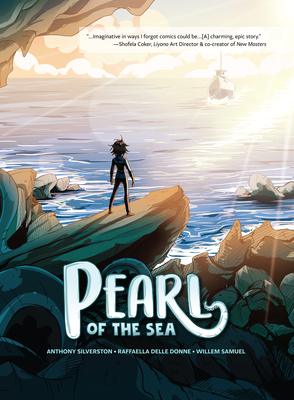 List Price: $19.95
Our Price: $16.96
(Save: $2.99 15%)
Description
---
FROM THE AWARD-WINNING ANIMATION TEAM BEHIND THE FILMS
KHUMBA
,
ZAMBEZIA
, AND
SEAL TEAM
Pearl has always felt more comfortable in the sea than surrounded by the people in her sleepy South African town who always seem to let her down. But when a new friend from below the surface is taken by poachers, Pearl may need a little help after all.
Since her mother left, Pearl has spent more and more time in the ocean, fishing to help her father pay the bills. But when she gets mixed up with a group of illegal abalone poachers and starts diving near a restricted wreck, Pearl meets an ancient sea monster named Otto-who isn't quite as monstrous as she thought. And when Otto's enemies come back to finish what they started, Pearl is the only one who can save him, but only if she has the courage to let go of her past and open up to others--including the girl from class she's got a crush on.
With her one-eyed pup sidekick and a whole lot of nerve, Pearl may just be able to save Otto and finally tell the truth to her father... and, more importantly, to herself. With vibrant full-color illustrations, Pearl of the Sea is a South African adventure story exploring how we are both bound to and freed by nature, seen through the eyes of a tough teen-aged heroine determined to live life by her own rules.
About the Author
---
Anthony Silverston is partner and Head of Development at Triggerfish Animation Studios in South Africa where he is currently overseeing a slate of projects in development and production. These include Kizazi Moto: Generation Fire, an anthology of 10 short films in production with Disney+, Mama K's Team 4 with Netflix, and Kiya with Disney, eOne and Frogbox, as well as a number of feature films and TV series in development with various partners. In 2015, he oversaw the Story Lab, an initiative where 4 feature films and 4 TV series were chosen to be developed after a continent-wide search that drew almost 1400 entries. He also directed and co-wrote the feature film Khumba, which premiered in competition at Annecy International Animation Festival in 2013. The script, co-written with Raffaella Delle Donne, won a major UK scriptwriting competition in 2006 and was the first animation selected for No Borders Co-Production Market in its 30-year history. He has produced and written on Seal Team (released globally in December 2021 on Netflix), as well as Triggerfish's first feature Zambezia. Silverston was also producer of the short film Belly Flop which screened at over 135 festivals and won 14 awards, and the Blender short film, Troll Girl. Before joining Triggerfish, he completed three independent stop-motion shorts of his own. He is also a published Microbiologist, which is a fact that has become increasingly less useful over the years. Raffaella Delle Donne has over fifteen years of experience in the animation industry developing and creating content for Disney, eOne, Wekids, Snipple Animation, Netflix, Baobab Studios and Triggerfish Animation Studios. She was the TV Development Executive for the Triggerfish Studios/Disney Storylab that incubated Mama K's Team 4 and co-wrote the award-winning features Adventures in Zambezia and Khumba. Raffaella is currently a writer and Executive Creative Consultant on Kiya and the Kimoja Heroes, a new preschool show slated for release on Disney. Willem Samuel is a visual artist working in animation and comic books. His autobiographical novel, Mengelmoes, was published in the UK by Soaring Penguin Press in 2016 to critical acclaim. His comic work has featured in zines internationally, including the cult series Bitterkomix and in cyberspace via the award-winning online anthology Aces Weekly, brainchild of David Lloyd (V for Vendetta). Previously, Willem Art Directed the pan-African comic Supa Strikas, which was adapted into an animated series. More recently he served as Head of Story on the animated feature Seal Team as well as creating concept art for the Warhammer+ streaming series, Hammer & Bolter.