Morna's Legacy Christmas Novella Collection: Scottish Time Travel Romance Christmas Novellas (Hardcover)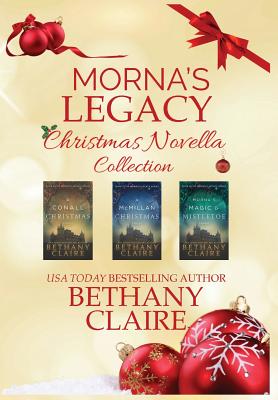 $29.99

Warehouse, In Stock | Usually Ships in 1-5 Days | New
Description
---
Enjoy Christmas in Scotland and experience Morna's magic in these 3 delightful Christmas novellas. The collection includes A Conall Christmas, A McMillan Christmas, and Morna's Magic & Mistletoe. These books were previously released as individual titles in the Morna's Legacy Series.
A Conall Christmas: It's Yuletide at Conall Castle
Adelle, a former socialite and serial dater, finds that her current age seems much older in the seventeenth century than it did in the twenty-first. She resigns herself to the fact that she will remain single for the rest of her days--at least until an unexpected visitor arrives at the castle.
Hew has spent the last twenty years all alone. When a winter storm causes him to seek shelter, he meets the first lass since his beloved Mae to make his heart flutter once again. Will he be able to release himself from his grief to allow another love into his life?
A McMillan Christmas: A Time For Second Chances
When the worst Christmas snowstorm of the century hits the Scottish Highlands, Harper knows she must seek shelter and is left with no choice but to take refuge in the one place she swore to never return--McMillan Castle--the home of the only man to ever break her heart.
Christmas only reminds Kamden of all he's lost. As he settles in for yet another holiday spent alone, he is stunned when his ex-girlfriend breaks into his home to escape the snow. Just as they begin to get reacquainted, Morna's meddling magic sends them back in time, and both are forced to reconsider what they thought they knew about the other.
Morna's Magic & Mistletoe: Kenna accompanies Cooper hundreds of years into the future for a week of Christmas celebrations with the old witch, Morna, but unexpected guests upend all of their holiday plans.
When Malcolm bumps into old friends, he meets the first woman in years to stir something long neglected inside his heart. Time together ignites their passion for one another, but the undeniable truth that they live worlds apart threatens their bond. Will their new love for one another be enough to convince him to leave the life he's always known?