Pick Your Head Up, Beautiful (Hardcover)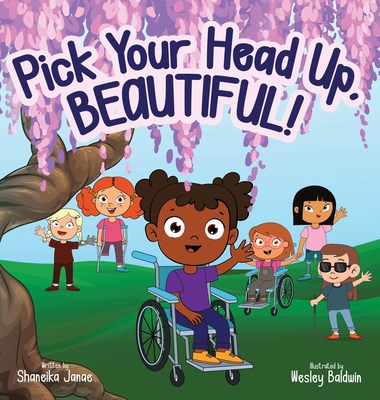 List Price: $18.99
Our Price: $16.14
(Save: $2.85 15%)
Description
---
Pick Your Head Up, Beautiful is an affirmation book for children who are "differently abled," to empower, encourage, and reassure them that they can do ANYTHING they set their mind to.
Author Shaneika Janae compellingly states: "Labels can never define you. Always know that you are beautifully diverse and equally valued."
After just six months old, Author Shaneika Janae learned that her then only child would have challenges that would identify her as "differently-abled." Test after test confirmed continual delays in little Khloie's growth and development. As a result, she was diagnosed with Optic Nerve Atrophy, Cerebral Palsy, Hypotonia, a seizure disorder, and other diagnoses. In addition to all of this, Khloie was then placed on a feeding tube for meals and medications.
On Sunday, November 14th, 2021, Khloie Janae peacefully passed away at home with her mother and younger sister, at just 9 years old.
The author states: Pick Your Head Up, Beautiful is inspired by my two daughters, Khloie Janae, nine years old, and Khyla Janae, who was four years old at the time of this publication. As a mother of two young girls - one with various medical diagnosis and labeled as having "special needs", and the younger who struggled with low self-esteem, it is my responsibility to constantly remind them of how beautiful they are and to reassure them that they can do everything they set their minds to. I pray that this book does that for not just my children, but also parents of differently-abled children, and children who are differently-abled."