El Niño Desincronizado: Reconociendo Y Enfrentando El Trastorno de Procesamiento Sensorial: Spanish Edition of the Out-Of-Synch Child (Paperback)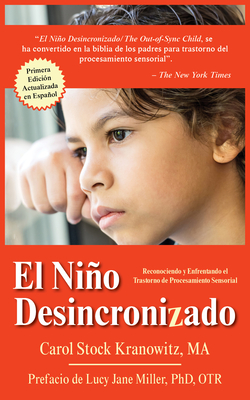 List Price: $19.95
Our Price: $16.96
(Save: $2.99 15%)
Warehouse, In Stock | Usually Ships in 1-5 Days | New
Description
---
La edici n revisada del innovador libro de 1998 que introdujo el Trastorno del procesamiento sensorial (SPD) a padres, maestros y otros no especialistas. SPD es un problema com n y frecuentemente diagnosticado err neamente en el cual el sistema nervioso central malinterpreta los mensajes de los sentidos.
Esta nueva edici n presenta informaci n adicional sobre d ficits visuales y auditivos, dificultades de habilidades motoras, TDAH, autismo,'s ndrome de Asperger y otros trastornos relacionados.
Galardonado con el's mbolo de excelencia de la revista "Exceptional Parent magazine" para padres excepcionales
Seleccionado como uno de los 10 mejores libros de la revista sobre crianza de ni os con discapacidades "Brain Child" Seleccionado como uno de los 19 libros que los bibliotecarios dicen que cambi sus vidas Destacado en la revista "Oprah" como uno de los libros que marc la diferencia con Rachel Griffiths
This is the Spanish edition of the innovative and bestselling book, The Out-of-Synch Child, that introduced the Sensory Processing Disorder (SPD) to parents, teachers and other non-specialists. SPD is a common and frequently misdiagnosed problem in which the central nervous system misinterprets the messages of the senses.
This new edition presents additional information on visual and auditory deficits, motor skills difficulties, ADHD, autism, Asperger syndrome and other related disorders.
Awarded Exceptional Parent magazine's Symbol of Excellence Selected as one of Brain, Child magazine's top 10 books about parenting children with disabilities Selected as one of 19 books that librarians say changed their lives Featured in Oprah magazine as one of the books that made a difference to Rachel Griffiths