Understanding the Sociopath: Why antisocials, narcissists and psychopaths break the rules of life (Paperback)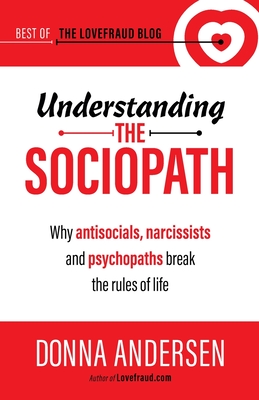 List Price: $16.95
Our Price: $14.41
(Save: $2.54 15%)
Warehouse, In Stock | Usually Ships in 1-5 Days | New
Description
---
Understanding the Sociopath explains, in plain language, the 12% of the population who do not play by the same rules of life as the rest of us. These master manipulators, who have antisocial, narcissistic, borderline, histrionic or psychopathic personality disorders, seem normal at first, but their objective is to use and exploit us.
You may already be dealing with one of the 30 million adults in the United States who could be diagnosed with these serious personality disorders. If so, Understanding the Sociopath explains why they do what they do, why they will never change, and why you need to get them out of your life.
This book is a curated collection of blog articles from Lovefraud.com, the premier Internet website on how to recognize and recover from sociopaths. The content is presented in easy-to-read, bite-sized pieces; you won't be overwhelmed by technical jargon. Articles include:
- 10 translations of 'I love you' when spoken by a sociopath
- Sociopaths and double lives
- The truth about sex with sociopaths
- Why psychopaths don't change
- Letters to Lovefraud: I am a sociopath
- 10 things sociopaths want (besides money)
- Will the sociopath treat the next wife better?
- The sociopathic MO in three easy steps
- Why do psychopaths want to mess with your head?
- Do sociopaths know what they are?
Understanding the Sociopath includes dozens of stories and questions submitted by Lovefraud readers, with analysis and answers by Donna Andersen, author of Lovefraud.com. You'll see how sociopaths operate in real life, so if someone you know engages in destructive behavior, you'll be able to spot the warning signs.
Donna Andersen previously wrote, Red Flags of Love Fraud -- 10 signs you're dating a sociopath. Her first book, Love Fraud, tells her outrageous personal story of her marriage to a sociopathic con artist, and was awarded five stars by the Midwest Book Review. Donna is also co-author of a peer-reviewed scientific article in the Journal of Counseling and Development, and has presented her research to the Society for the Scientific Study of Psychopathy.
Sociopaths exist, and they aren't all serial killers. Understanding the Sociopath demystifies their behavior, so you can recognize them and protect yourself.