Love the Job, Lose the Stress: Successful Social and Emotional Learning in the Modern Music Classroom (Paperback)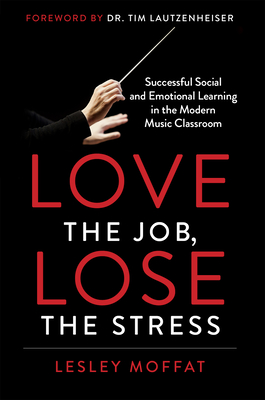 List Price: $17.95
Our Price: $15.26
(Save: $2.69 15%)
Description
---
From the best-selling author of I Love My Job But It's Killing Me a lesson plan for the successful music educator in today's new world.
It's always been challenging to keep students focused in a world where distractions and other factors interfere with their ability to learn, and that's even more true as we find ourselves in unprecedented and ever-changing educational situations now. It's becoming more difficult to get students to connect and engage with our riveting lessons as the list of things that distract them is ever-growing, from social media and family issues to fear of the unknown and heightened anxieties, just to name a few.
As music teachers, we teach students how to develop all kinds of skills, from mental to physical, in order for them to be well-rounded musicians. We show them how to properly form an embouchure, the correct fingerings to use, how to read music, what proper posture looks like, how to be artistic and expressive, and so much more.
And we always tell them to "pay attention" and "focus." But do we ever teach them how to pay attention and focus?
The secret to getting students engaged, focused, and curious so you can teach them all the cool stuff about music is teaching them how to actually build those skills until they become habits. Once you've taught them how to learn, then everything else becomes a million times easier for you and for them.
In this book, you will discover:
How to "tune your students' brains and bodies in just a few minutes at the beginning of each class so they are able to receive, retain, and reimagine what you teach them
The secret to implementing a plan for a successful classroom culture where students feel emotionally safe, regardless of whether you are in-person or online
Proven techniques for fast-tracking the learning process that work for you and for students through implementation of my SNaP Strategies
How my signature mPower Method can help you find the healthy balance you need to be emotionally, mentally, and physically fit enough to have the stamina to do this important work
As Dr. Tim Lautzenheiser said about this book and the process I teach, "I suggest that reading Love the Job, Lose the Stress offers-up a powerful prescription availing us to a personal/professional avenue arriving at one's desired contentment and fulfillment."
Once you adopt a way to literally tune your students' brains and bodies to prepare them for music class, you'll find you're able to teach "in flow" and be the teacher who helps kids become the best version of themselves through the magic of music education...without burning out in the process.
About the Author
---
Now in her fourth decade as a high school band director, Lesley Moffat has worked with thousands of people, helping them not only achieve musical goals (including repeated performances at Carnegie Hall, Disney Theme Parks, Royal Caribbean cruise ships, and competitions and festivals all over the US and Canada), but also teaching them how to develop the long-term life skills they need to be successful in the world. Following multiple serious illnesses and surgeries, Lesley had to completely transform her life at the age of fifty-one to prevent her health from continuing to decline. Using her body as a laboratory while desperately searching for cures from doctor after doctor, she became fed up with traditional band-aid approaches to treating symptoms, finding she just ended up sick again and again. Now healthier than she was in her thirties, Lesley's ready to share her secrets of success with a larger audience. A teacher at heart, she has designed a program to help women who find themselves chronically sick due to excess stress and exhaustion to reclaim their health so they can reclaim their lives. In the same way that she's designed lessons to engage every kind of learner for the thirty-plus years she's been a teacher, she is able to create individualized plans that meet the specific goals of each client on their path to a healthier and happier life. Lesley has been a presenter at the National Association for Music Education (NAfME) and WMEA Conferences, served on the board for the Mount Pilchuck Music Educators Association, and has been an adjudicator and guest conductor in the Pacific Northwest. Lesley lives in same Seattle suburb where she's taught for most of her career, developing relationships with students and their families as their teacher and also as a fellow member of the same community. After completing her undergraduate degree at Indiana University, she returned to her roots and moved back to the Pacific Northwest, where she and her husband, George, raised their three daughters, all of whom were students in her high school band program. Fun fact: Lesley, George, all three of their daughters, and Lesley's dad have performed at Carnegie Hall.