LLC Beginner's Guide for Aspiring Entrepreneurs (Hardcover)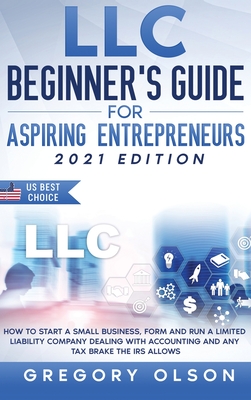 List Price: $24.98
Our Price: $21.23
(Save: $3.75 15%)
Warehouse, In Stock | Usually Ships in 1-5 Days | New
Description
---
Have you ever dreamt of starting your own business and living life on your terms? Are you considering forming an LLC (Limited Liability Company) but not sure whether it's the right move for your business or not sure what it entails?
If you run your own business as a sole proprietorship or partnership, you've probably heard of the advantages of limited liability companies―especially the way an LLC can protect personal assets from business debts. With the IRS having loosened restrictions and individual states following suit, much of the past disadvantages to creating an LLC have all but vanished. Since LLCs are now more versatile, they remain an appealing choice for those who start a new company or reorganize an existing company. This book illustrates how the power of an LLC is to be shaped and tapped into.
This limited liability Company guide includes a simple, concise guide outlining the advantages and drawbacks of LLCs and providing insider advice on everything from selecting your representatives and the name of your business to designing and filing your corporate articles and handling day-to-day operations. You can find the most up-to-date, real-world guidance on customizing an LLC for your particular business needs, establishing a great operating agreement, maintaining precise records, and new federal regulations and fees details that relate to LLCs, as well as a guide to online resources, forms, and documents.
Here's a small preview of what you can find within the pages of this excellent book:
Essential information to decide whether an LLC is right for your business and factors to take into account
The basics of sole proprietorship, partnership, LLC, S-Corp, and C-Corp taxation
How to protect your personal assets from lawsuits against your business.
Flexibility, default rules and tips to stay ahead of the game
And much more
Whether you're a high net-worth business owner looking to protect your personal assets, or a newly minted entrepreneur seeking an improved basic understanding of how LLCs function, this LLC Guide will provide key information in a readable, easy-to-follow format. So, scroll up and grab a copy today to start building your way towards financial freedom.