Anger Management Workbook for Kids - 50+ Fun and Engaging Activities to Help Children Regain Control and Become Calmer and Happier (Hardcover)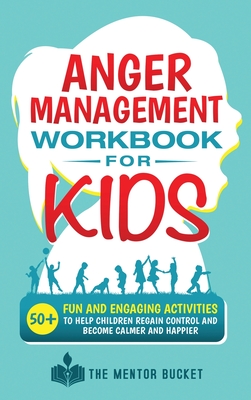 $23.09

Warehouse, In Stock | Usually Ships in 1-5 Days | New
Description
---
If you're looking to help your child recognize, express, and manage their anger in healthy, productive ways, then this hands-on anger management workbook will do the trick
Children go through a multitude of negative emotions that they simply don't understand. Whether it's because bad things are happening around or inside them, they simply don't have the right coping mechanisms to help them manage the feelings that arise.
What happens next is either they lash out, or they implode - both of which are very destructive not just for them but also for others around them.
So, how do you help them out with their feelings?
There are a multitude of ways you can help. But the most effective way is to give them the tools that they can use on their own, while making sure you're supporting and guiding them through all the entire process of dealing with their anger.
In "Anger Management Workbook for Kids", your child can work on 50+ fun and engaging activities to help them regain control, and become calmer and happier during challenging times.
In this game-changing anger management workbook, your child will get:
10 Exercises on how they can figure out where their anger is coming from
10 Exercises on how they can express their anger in healthy ways
10 Exercises on how they can manage difficult emotions
7 Exercises on how they can work it out on their own
8 Exercises on how they can creatively distract themselves from their anger
4 Extra exercises that will help them let out their anger while being productive
3 Exercises on how they can reflect on their experiences and how it affects others
And so much more
As much as you want to be with your child every step of the way, that simply isn't possible.
With "Anger Management Workbook for Kids", you can help guide and empower your child to handle negative emotions better while learning crucial tools that they can take with them well into adulthood
And, who knows? You might learn a thing or two from this workbook as well
So, what are you waiting for? Get your copy NOW.