The Mercenary and the Mage: The Complete Series (Paperback)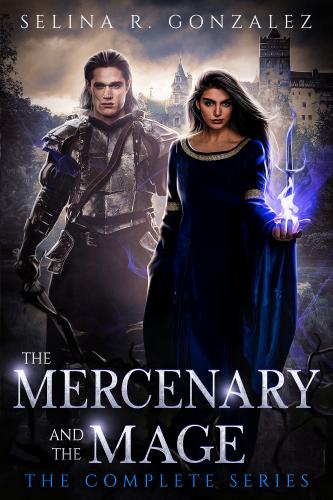 $31.49

Warehouse, In Stock | Usually Ships in 1-5 Days | New
Description
---
She could be his light...if his darkness doesn't destroy them both.
Find magic, romance, found family, dastardly villains, medieval tournaments, humor, dire situations, and hope in The Mercenary and the Mage: The Complete Series
This omnibus contains The Mercenary and the Mage duology, two companion novellas, and a short story in one paperback book.
Former mercenary with a heart of gold Lord Regulus and feisty mage-in-hiding Lady Adelaide struggle to make a relationship work despite societal disapproval and a sorcerer bent on destruction and conquest-even if he has to go through Regulus and Adelaide to achieve his goals.
Learn more about Regulus' suave and loyal best friend, Dresden Jakobs, in his prequel and companion novellas, and enjoy a cozy winter holiday story from the perspective of Regulus' earnest squire, Harold.
Bastard and former mercenary Lord Regulus Hargreaves' resolve is crumbling. He's desperate to pay off his debt to the sorcerer who enslaved him, but after two years, he fears he'll never be free of the cursed mark that won't even let him die. Then Lady Adelaide sees past his scar and shadowed past, and Regulus' dying hope rekindles.
But will loving Adelaide while serving the Prince of Shadow and Ash put her in danger?
Adelaide Belanger yearns to use the magical energy within her, but revealing her power could get her killed--like every other mage in the kingdom. When she meets kind and rugged Regulus, she wonders if she has finally found someone to trust with her secret-and her heart. Regulus and Adelaide struggle to protect their romance and keep their secrets from predatory nobles and the devious sorcerer.
By the time their secrets are revealed, it may be too late for them both...and possibly for the entire kingdom.
Contains:
Prince of Shadow and Ash (The Mercenary and the Mage book 1)
Staff of Nightfall (The Mercenary and the Mage book 2)
Companion novellas:
Servant, Mercenary, Brother: A Dresden Jakobs Vignette Collection Volume I and Volume II
Bells of Winter: A Mercenary and the Mage Story (novelette)
All books also available separately.