Gentrification Down the Shore (Paperback)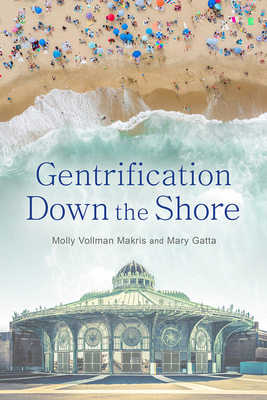 List Price: $33.95
Our Price: $26.96
(Save: $6.99 21%)
Description
---
Makris and Gatta engage in a rich ethnographic investigation of Asbury Park to better understand the connection between jobs and seasonal gentrification and the experiences of longtime residents in this beach-community city. They demonstrate how the racial inequality in the founding of Asbury Park is reverberating a century later. This book tells an important and nuanced tale of gentrification using an intersectional lens to examine the history of race relations, the too often overlooked history of the postindustrial city, the role of the LGBTQ population, barriers to employment and access to amenities, and the role of developers as the city rapidly changes. Makris and Gatta draw on in-depth interviews, focus groups, ethnographic observation, as well as data analysis to tell the reader a story of life on the West Side of Asbury Park as the East Side prospers and to point to a potential path forward.
About the Author
---
MOLLY VOLLMAN MAKRIS is an associate professor and program coordinator of Urban Studies at CUNY-Guttman Community College. Her work investigates the intersections of gentrification, urban education, and the lives of youth. Her previous book, Public Housing and School Choice in a Gentrified City: Youth Experiences of Uneven Opportunity won the AESA Critics Choice Book Award.
 
MARY GATTA is an associate professor at CUNY-Guttman Community College. She is a leader in research on gender, workforce development and policy. Her latest books are Waiting on Retirement: Aging and Economic Insecurity in Low Wage Work and All I Want Is a Job! Unemployed Women Navigating the Public WorkforceSystem.
Praise For…
---
"Focusing on historical segregation both residentially and in the labor market, Makris and Gatta's rich qualitative work and presentation of intersectionality in Gentrification Down the Shore sheds light on the experiences of living in Asbury Park from the perspective of people who were there long ago during the music heyday, and more recently during its revitalization."
— Kathe Newman

"From Venice, California, to the Rockaway Peninsula, beach towns like Asbury Park are changing from funky, diverse communities to pricey, sanitized tourist zones of hipster cool. Gentrification Down the Shore documents the tragic consequences of this kind of redevelopment, which bypasses longtime residents in favor of seasonal visitors and deprives them of access to nature, culture, and civic life." 
— Sharon Zukin

"Greetings from Asbury Park. Now Let's Talk About Gentrification and Racism"
— SUM

Indoor Voices podcast interview with Mary Gatta and Molly Vollman Makris
— Indoor Voices podcast

"Rescue Our Cities and Towns" by Mary Gatta and Molly Vollman Makris
— The Progressive

"Makris and Gatta present an informative and compelling portrait of a storied city undergoing its latest transformation even as long-committed businesses and residents struggle to find a place within it. Gentrification Down the Shore deserves a place on the reading lists of cultural historians, gentrification scholars, and above all fans of Asbury Park."
— The Metropole

"[A] groundbreaking ethnography...Gentrification Down the Shore is an important book that sheds light on the impact of gentrification on African Americans living in Asbury Park, New Jersey, as the first such text on the subject."
— NJ Studies