Izzy: A Biography of I. F. Stone (Hardcover)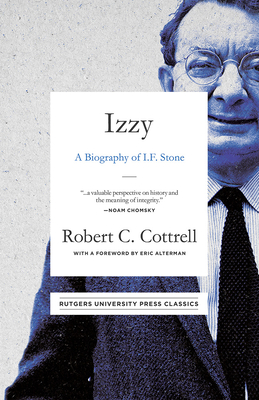 $144.00
This item is backordered and not currently available. Please contact us for an estimated availability date.
Description
---
This is the classic story of the life and times of I. F. "Izzy" Stone. Robert Cottrell weaves together material from interviews, letters, archival materials, and government documents, and Stone's own writings to tell the tale of one of the most significant journalists, intellectuals, and political mavericks of the twentieth century. The story of I. F. Stone is the tale of the American left over the course of his lifetime, of liberal and radical ideals which carried such weight throughout the twentieth century, and of journalism of the politically committed variety. Now available in a handsome new Rutgers University Press Classic edition, it is an examination of the life and career of a gregarious yet frequently grumpy loner who became his nation's foremost radical commentator provides a window through which to examine American radicalism, left-wing journalism, and the evolution of key strands of Western intellectual thought in the twentieth century.
About the Author
---
Robert C. Cottrell has written over twenty books, including biographies of ACLU icon Roger Nash Baldwin and Negro League founder Rube Foster. He is the author most recently of Sex, Drugs, and Rock 'n' Roll: The Rise of America's 1960s Counterculture. Cottrell, professor of history and American studies at California State University, Chico, has also taught in London; Puebla, Mexico; and Moscow, Russia, in the latter instance as a Distinguished Fulbright Chair. He is presently completing a new book, The American Left: From the Wobblies to Black Lives Matter.
Praise For…
---
"I.F. Stone made a contribution to educating Americans that can hardly be overestimated. As a reader from childhood, later a friend, I was only one of many who found his work and life an inspiration.
Izzy
offers a valuable perspective on history and the meaning of integrity."
— Noam Chomsky
"A fascinating history of radical thought in the U.S. . . .essential for American history shelves."
— Booklist
"Cottrell has used Stone's life as a prism through which some of the most significant episodes in recent American history can be view. . . . Balanced and thoughtful. While clearly an admirer of the man, Cottrell also asks hard questions about his judgement on a number of political issues."
— Maurice Isserman
"I. F. Stone's Weekly ... pioneered a new kind of investigative journalism, based upon the close reading of government documents. In the 1950's, he gained renown for exposing the hazards of nuclear testing. Then, as the United States became embroiled in Vietnam, he became one of the war's most persistent and effective critics and a hero to a new generation on the left... Stone's fans should welcome this book."
— The New York Times Book Review
"A masterly biography."
— Athan Theoharis
"An intriguing and sympathetic biography. Admirably researched and forthrightly told,
Izzy
deserves a wide readership."
— Stephen J. Whitfield
"A useful record of Stone's lifework."
— The Washington Post
"Impressive in its details and its accolades to Stone."
— Editor & Publisher
"Stone (1907-88) enjoyed a remarkable career as a journalist, muckraker, and indomitable critic of the Establishment. An editorialist at the
New York Post
during the Depression, Stone went onto to chronicle the rise of McCarthyism, the fall of segregation, and the emergence of the anti-Vietnam War movement. His newspaper
I.F. Stone's Weekly
, which ran from 1953 to 1971, exposed many forms of corruption at the highest levels of government."
— Library Journal
"This well-balanced biography of Isidor Feinstein (I.F.) Stone...most famous for
I.F. Stone's Weekly
(1953-71), a newsletter that analyzed and criticized governmental operations. It became a model of investigative reporting and its founder a journalistic icon. The book provides superb documentation, exhaustive notes, and a helpful index. The few illustrations give insights into the very human "Izzy" Stone. Recommended for both general and academic readers at all levels."  
— Choice
"Definitive…an intellectual and political chronicle of progressive politics and activist journalism in twentieth century America…[and] a textured portrayal of Stone's life as a prism through which to view decades of changes in the American left."
— Los Angeles Times
"A readable and convincing account."
— Sydney Morning Herald
"Still valuable today."
— Paul Berman
"A superb biography….One might hope that journalism schools around the land might require students to read Cottrell's biography."
— Journal of American Culture
"We are indebted to Cottrell for this contribution to journalism history….it demonstrates the power of the pen as Stone evolved from the typewriter to a Macintosh….Look long and hard at what Cottrell has contributed to journalism literature with this book….This is a significant study."
— Journalism History