Fourth of July, Asbury Park: A History of the Promised Land (Hardcover)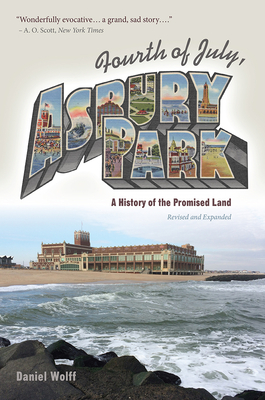 List Price: $25.95
Our Price: $24.65
(Save: $1.30 5%)
Description
---
Bruce Springsteen brought international attention to the Jersey shore by naming his debut album Greetings from Asbury Park, NJ. But the real Asbury Park has an even more fascinating story behind it: a seaside city of dreams that became a magnet for both the best and worst of America, playing host to John Philip Sousa, Count Basie, and Dr. Martin Luther King, as well as the mob and the Ku Klux Klan. 
 
Fourth of July, Asbury Park tells the tale of the city's first 150 years, guiding us through the development of its lavish amusement parks and bandstands, as well as the decay of its working-class neighborhoods and spread of its racially-segregated ghettos. Featuring exclusive interviews with Springsteen and other prominent Asbury Park residents, Daniel Wolff uncovers the history of how this Jersey shore resort town came to epitomize both the promises of the American dream and the tragic consequences when those promises are broken. 
 
Hailed by The New York Times as a "wonderfully evocative…grand, sad story" when first published in 2006, this revised and expanded edition considers how Asbury Park has changed in the twenty-first century, experiencing both gentrification and new forms of segregation.
About the Author
---
DANIEL WOLFF is a Grammy-nominated non-fiction author and poet who has written a half-dozen books on American history and culture, from an award-winning biography of Sam Cooke to a best-selling dual biography of Woody Guthrie and Bob Dylan. He also collaborated with photographer Eric Meola on Born to Run: The Unseen Photos. He resides in Nyack, New York.
Praise For…
---
"Wonderfully evocative…a grand, sad story of racism and real estate, political hardball and seaside pleasure-seeking."
— A.O. Scott

"Unflinching, artful, and indispensable."
— Dave Marsh

"A luminous history of Springsteen's Asbury Park…Wolff creates popular history at its best. Springsteen fans will love it, and so will anyone interested in American social history."
 
— Booklist (starred review)

"Wolff weaves into his narrative the musical heritage of Sousa, Sinatra and Bill Haley to underscore the social changes affecting the town over time. Asbury Park's current renewal efforts are mired in troubles—but the song Wolff hears there is still one of hope."
— Publishers Weekly

"It's an ingenious idea, as the author, a poet and an award-winning biographer of Sam Cooke, filters the town's history through more than a century of its all-American summer holiday celebrations."
— San Francisco Chronicle

Rutgers University Press To Release Updated Version of "Fourth of July, Asbury Park: A History of the Promised Land" by Daniel Wolff
— New Jersey Stage

"N.J.'s two Asbury Parks turn 150," by Daniel Wolff
— NJ.com