Resonant Violence: Affect, Memory, and Activism in Post-Genocide Societies (Genocide, Political Violence, Human Rights ) (Hardcover)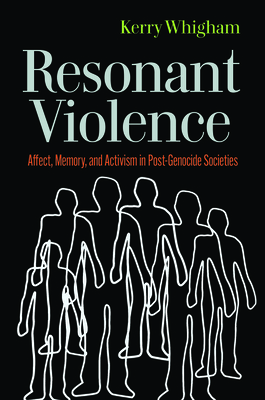 $144.00
This item is backordered and not currently available. Please contact us for an estimated availability date.
Description
---
From the Holocaust in Europe to the military dictatorships of Latin America to the enduring violence of settler colonialism around the world, genocide has been a defining experience of far too many societies. In many cases, the damaging legacies of genocide lead to continued violence and social divisions for decades. In others, however, creative responses to this identity-based violence emerge from the grassroots, contributing to widespread social and political transformation. Resonant Violence explores both the enduring impacts of genocidal violence and the varied ways in which states and grassroots collectives respond to and transform this violence through memory practices and grassroots activism. By calling upon lessons from Germany, Poland, Argentina, and the Indigenous United States, Resonant Violence demonstrates how ordinary individuals come together to engage with a violent past to pave the way for a less violent future.
About the Author
---
KERRY WHIGHAM is an assistant professor of genocide and mass atrocity prevention at the Institute for Genocide and Mass Atrocity Prevention at Binghamton University in New York. He is also the director of research and online education at the Auschwitz Institute for the Prevention of Genocide and Mass Atrocities. For more information, visit www.kerrywhigham.com.
Praise For…
---
"This theoretically sophisticated yet accessible book marks an important advance for research. It breaks from mainstream approaches and introduces a novel set of explorations around the idea of 'resonant violence,' going well beyond the concept of trauma as normally understood. It should be widely read."
— Ernesto Verdeja

"Kerry Whigham's great intelligence and sensibility are on display throughout this book. In addition to introducing the notion of 'resonant violence,' he not only integrates memory studies, affect theory, performance studies, and transitional justice eruditely to the study of the topic, but also shows the importance of embodied practices for addressing and preventing genocidal violence."
— Pablo de Greiff

"This authoritative, informative and resourceful book contributes to new knowledge on forms of genocidal violence, oppression, discrimination and structural institutional power in context specific ways with a blend of astounding clarity, conciseness and sharp analysis. Kerry Whigham emphasizes that oppression of any kind is not the natural order of society and explains, using examples, how groups of people come together to understand how violence is constructed, perpetuated and structurally advanced. These people offer crucial lessons for consideration of a possible post-discriminatory world as not only possible, but necessary. This book is an essential resource for anyone in the field of genocide studies and the prevention of violent conflict."
— Alice Wairimu Nderitu

"This theoretically sophisticated yet accessible book marks an important advance for research. It breaks from mainstream approaches and introduces a novel set of explorations around the idea of 'resonant violence,' going well beyond the concept of trauma as normally understood. It should be widely read."
— Ernesto Verdeja

"Kerry Whigham's great intelligence and sensibility are on display throughout this book. In addition to introducing the notion of 'resonant violence,' he not only integrates memory studies, affect theory, performance studies, and transitional justice eruditely to the study of the topic, but also shows the importance of embodied practices for addressing and preventing genocidal violence."
— Pablo de Greiff

"This authoritative, informative and resourceful book contributes to new knowledge on forms of genocidal violence, oppression, discrimination and structural institutional power in context specific ways with a blend of astounding clarity, conciseness and sharp analysis. Kerry Whigham emphasizes that oppression of any kind is not the natural order of society and explains, using examples, how groups of people come together to understand how violence is constructed, perpetuated and structurally advanced. These people offer crucial lessons for consideration of a possible post-discriminatory world as not only possible, but necessary. This book is an essential resource for anyone in the field of genocide studies and the prevention of violent conflict."
— Alice Wairimu Nderitu