Cat Lover Adult Coloring Book: Gift of Coloring Cat Portraits: Beautiful Cat Doodles For Women, Men and Kids (Cat Lover Gifts) Vol. 2 (Paperback)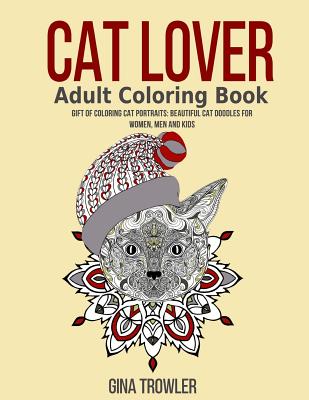 $8.99
This item is backordered and not currently available. Please contact us for an estimated availability date.
Description
---
Start Coloring and Experience Stress Relief with Adorable Cat Lover Coloring Pages Enter into an almost magical state of relaxation and stress relief with Gina Trowler's new coloring book of cat portraits. Ideal Coloring Book Gift For Cat Lovers Another cat lover inspired coloring book for cat lovers everywhere About the illustrator, Gina Trowler Gina is a passionate illustrator and fellow adult coloring fan. With her adult coloring books, Gina hopes to help colorists color away their stress and ultimately take them to a place of calm and happiness. About this Special Collection These artistic designs of cat portraits includes a different portrait from 31 different cat breeds listed in no special order:
1.Abyssinian
2.American Curl
3.American Shorthair
4.Birman
5.Bombay
6.Burmese
7.Colorpoint Shorthair
8.Cornish Rex
9.Devon Rex
10.Egyptian Mau
11.Exotic
12.Havana Brown
13.Himalayan
14.Japanese Bobtail
15.Maine Coon
16.Manx
17.Norwegian Forest Cat
18.Ocicat
19.Oriental Shorthair
20.Persian
21.Ragdoll
22.Russian Blue
23.Savannah
24.Scottish Fold
25.Selkirk Rex
26.Siamese
27.Siberian
28.Singapura
29.Somali
30.Sphynx
31.Turkish Angora Printed Single Page Each of the individual drawing is intentionally printed on a single page with the reverse left blank. By leaving the reverse blank, you can easily cut out your coloring page and create a picture that will perfect for displaying or framing purposes. Buy Now and Enjoy.