You Were There Too (Paperback)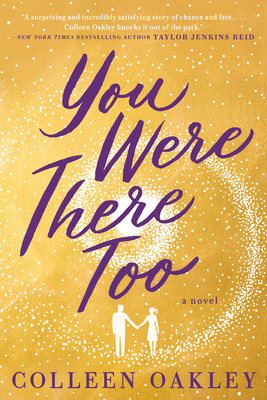 List Price: $16.00
Our Price: $13.60
(Save: $2.40 15%)
Warehouse, In Stock | Usually Ships in 1-5 Days | New
January 2020 Indie Next List
---
"This book had me from the prologue, when its main character, Mia, wakes up in the midst of some sort of catastrophe, pinned down by a man she won't name but seems to know. The whole novel is, to use Mia's words, 'an incomplete jigsaw puzzle.' I wanted to race through it to fit the pieces together, yet I wanted to read the story slowly as I got to know and care about every character. I absolutely loved this novel and can't wait to share it with readers ready to cozy up to a great story this winter!"
— Lady Smith, The Snail on the Wall, Huntsville, AL
Description
---
A USA TODAY BESTSELLER

"A surprising and incredibly satisfying story of chance and fate."—New York Times bestselling author Taylor Jenkins Reid

"I read it in one long gulp and didn't want it to end."—New York Times bestselling author Jill Santopolo

Acclaimed author Colleen Oakley delivers a heart-wrenching and unforgettable love story about a woman who must choose between the man she loves and the man fate has chosen for her, in a novel that reminds us that the best life is one led by the heart.

Mia Graydon's life looks picket-fence perfect; she has the house, her loving husband, and dreams of starting a family. But she has other dreams too—unexplained, recurring ones starring the same man. Still, she doesn't think much of it, until a relocation to small-town Pennsylvania brings her face to face with the stranger she has been dreaming about for years. And this man harbors a jaw-dropping secret of his own—he's been dreaming of her too. 

Determined to understand, Mia and this not-so-stranger search for answers. But when diving into their pasts begins to unravel her life in the present, Mia emerges with a single question—what if?
About the Author
---
Colleen Oakley is the author of two previous novels, Close Enough to Touch and Before I Go, which were named best books by People, Us Weekly, Library Journal and Real Simple, and both were long-listed for the Pat Conroy Southern Book Prize. Oakley is also the former senior editor of Marie Claire and editor in chief of Women's Health & Fitness. Her articles, essays and interviews have been featured in the New York Times, Ladies' Home Journal, Marie Claire, Women's Health, Redbook, Parade and Martha Stewart Weddings. She lives in Georgia with her husband, four kids and the world's biggest lapdog.
Praise For…
---
"You Were There Too is a surprising and incredibly satisfying story of chance and fate. From the book's enticing first pages to its startling and electrifying conclusion, Colleen Oakley knocks it out of the park."—New York Times bestselling author Taylor Jenkins Reid

"A beautifully woven story of love, grief, and the power we do and don't have to choose our fate, You Were There Too brought me to tears. I read it in one long gulp and didn't want it to end."—New York Times bestselling author Jill Santopolo

"Hypnotically beautiful, You Were There Too delves into the chasm between the life we have and the life we imagine for ourselves. Unique, lyrical and thoughtful."—New York Times bestselling author Kristan Higgins

"A rare gem of a novel. Colleen Oakley checks all the boxes with this one: exquisite, careful writing, beautifully drawn three-dimensional characters, and a twisty plot that defies premonition. This is a book about connections, and discovering that why we are connected to each other is a lot less important than the fact that we are. I couldn't wait to find out what happened next, while at the same time hated for this lovely book to end. This is the kind of book we all long for, one to read and savor, and then read again."—New York Times bestselling author Karen White

"I have been a fan of Oakley since her debut novel, but with this book, she has risen to a new level. You Were There Too took me through the gamut of emotions--confusion, anticipation, grief, hope. Oakley's writing is taut, fresh and doesn't waste a single word. I devoured this novel in three sittings but I will be thinking about it for much, much longer. A slam dunk bestseller for sure."—Sally Hepworth, bestselling author of The Family Next Door and The Mother-in-Law

"A heartbreaking and thought-provoking exploration of fate, love, and choice sure to bring on a few tears."—Kirkus

"There is a splendid blend of humor throughout Oakley's alternately romantic, idiosyncratic, and foreboding love-conquers-all tale that easily engages new readers and will please the author's fans."—Publishers Weekly (starred review)

"Fans of relationship fiction that explores women's inner lives and choices by Jennifer Weiner or Amy Hatvany will be unable to put this book down."—Booklist (starred review)

Praise for Colleen Oakley

"One of the most thought-provoking love stories of the year."—Real Simple

"Author Oakley has set herself a tricky balancing act here, blending a comic sensibility with the depth and poignancy her subject requires. She pulls it off."—People
 
"Colleen Oakley's debut deftly balances sorrow with laughs and compassion."—Us Weekly
 
"With compassion and humor, Oakley makes us feel for this dying woman and understand her final wish."—Good Housekeeping
 
"An impressive feat...an immensely entertaining, moving and believable read."—The Atlanta Journal
 
"Oakley, in this irresistible novel, succeeds in examining the myriad ways in which people relate to one another, even at arm's length."—The Atlanta Journal-Constitution
 
"Oakley clearly knows this genre well and navigates its expectations with ease, while still keeping things fresh."—Otago Daily Times
 
"It is easy to get lost in this vividly told story with characters and a fictional malady that are utterly believable. Oakley's second novel should build on the author's popularity and continue comparisons to popular authors such as Jojo Moyes."—Library Journal
 
"Oakley's sophomore novel is a treat... Fans of JoJo Moyes and rom-coms set within the stacks of libraries will rejoice."—Booklist
 
"Heart wrenching and humorous, Oakley delivers an out-of-the-ordinary love story with steady quips and endearing characters... [Jubilee's] journey from recluse to recovery is fascinating."—Publishers Weekly
 
"Oakley masterfully creates a high-stakes story that still feels solidly real. All of her characters are well-rounded and charming, especially Jubilee. Readers will cheer each time she takes a risk and delight in her triumphs. A romantic, sweet story about taking chances and living life fully."—Kirkus
 
"A breathtaking story about love with all the odds against it...Colleen will tug at your heartstrings with this powerful and touching novel."—Anna Todd, bestselling author of After Ever Happy
 
"The story of three wounded souls denied the human touch they desire, expertly conceived with all the warmth and affection of an enormous bear hug. A real achievement."—Steven Rowley, national bestselleing author of Lily and the Octopus
 
"A witty, inventive, and bittersweet story of a reclusive young woman forced to venture into the world where complex medical issues become tangled with longings of the heart."—Beth Hoffman, New York Times bestselling author of Saving CeeCee Honeycutt and Looking for Me
 
"It's so rare these days to find an utterly original heroine like Jubilee - one who is bravely living an almost unimaginable life. Gripping, raw, and moving, this is one of my favorite novels of the year."--Sarah Pekkanen, bestselling author of Skipping a Beat
 
"A heart-warming, unconventional love story you won't be able to put down."—Karma Brown, bestselling author of Come Away With Me and The Choices We Make
 
"Oakley delivers a story that overflows with compassion, humor, and the impulsive need to read just one more chapter until you reach the very satisfying end."—Patti Callahan Henry, New York Times bestselling author of The Bookshop at Water's End
 
"Oakley tells this story with such confidence and grace that readers will find themselves fully invested in--and emotionally braced for--the unfolding tragedy."—Atlanta Magazine
 
"Highly recommended for laugh-out-loud fans and the tearjerker set.'"—Library Journal
 
"Oakley has produced an affecting work that, while avoiding maudlin sentimentality, makes the reader care about Daisy and her determination to live while dying."—Booklist
 
"It's impossible not to feel Daisy's pain, confusion and sadness as she thinks about what life will be like after she's gone....This emotional novel will make readers laugh through their tears."—Kirkus
 
"Oakley expertly tugs at the heartstrings with well-rounded characters and a liberal dose of gallows humor."—Publishers Weekly
 
"Colleen Oakley takes on the big three—life, death, and love—and delivers a jewel. Before I Go absolutely glows with humor, wit, and compassion. I adore Oakley's fresh voice and could hardly bear for the book to end."—Lynn Cullen, author of the national bestseller Mrs. Poe
 
"A big-hearted tale, with a fresh take on a woman grappling with the inevitable. The characters are approachable, full of wit and humor and—above all else—touching sincerity."—Suzanne Rindell, author of The Other Typist