Crypto Currency: Cryptocurrency for Beginners: Learn Everything about: Blockchain, Bitcoin, & Ethereum (Paperback)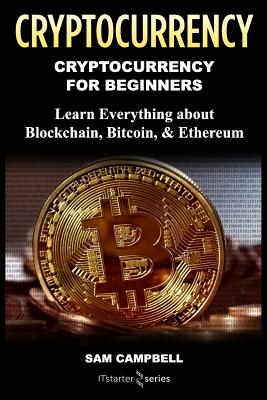 $9.99

Warehouse, In Stock | Usually Ships in 1-5 Days | New
Description
---
Cryptocurrency for Beginners
Cryptocurrency is safer, faster, and easier to transact with than traditional money online. In this book, you will learn what cryptocurrency is, why it is better than fiat currency, benefits of using, blockchain technology, and more about the two most popular forms - Bitcoin and Ethereum.
Learn everything you need to understand and use this online currency in Cryptocurrency for Beginners: Learn Everything about: Blockchain, Bitcoin, & Ethereum, by Sam Campbell. This short guidebook gives you all the necessary basics. Campbell explains the difference between cryptocurrency and common money, breaks down terminology that may otherwise be confusing, explains the history and relevance of this new currency, and clearly shows why cryptocurrency is here to stay.
With Campbell's easy to follow guidance you will learn:
What cryptocurrency is
The benefits of cryptocurrency
Blockchain technology
The birth of the bitcoin
And everything you need to know about ethereum
In addition to learning about cryptocurrency, this guidebook comes with a Free Guide on passive investing with cryptocurrencies.
By the end of Cryptocurrency for Beginners, you will have a better understanding of cryptocurrency, blockchain technology, bitcoin, ethereum and the online financial community surrounding them. The common currency has drawbacks that cryptocurrency has overcome. Find out what they are and how this new currency may be the answer you've been looking for.
Cryptocurrency for Beginners is a foundational tool for understanding this new technology. You will be ready to dive into the world of online finances unhindered by a regulatory authority. Get started today
About the Author
---
IT Starter Series is a small independent, self-publishing brand, which was established in the year 2014. Initially, our aim was to provide high-quality e-book and paperback books. We're specializing in IT and programming languages. Three years in the business, and we still take pride in taking our customers seriously. Our three-year experience in the industry made us more competent and eager to provide knowledge to those who are interested in Computer Programming. Our brand aims to help our readers acquire new knowledge through the books we offer. Our intention is help enhance the lives of our readers, by teaching them new skills and knowledge so they can upgrade their lifestyle. Our goal is to help them find better careers. Our aim is to guide stay-at-home moms, retirees, and everyone interested in becoming a freelancer, for more freedom and flexibility.