Ex Nihilo (Hardcover)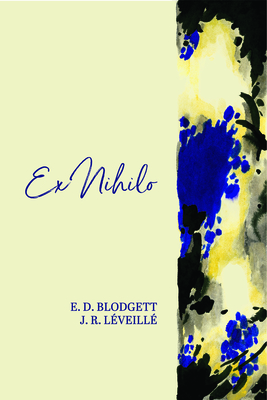 $28.69
This item is backordered and not currently available. Please contact us for an estimated availability date.
Description
---
Shortlisted for the Manuella Dias Award for Best Book Design
A bilingual collection of renga poetry by two of Canada's most celebrated poets in English and in French, each writing in his respective language in response to the other. A project of discourse itself, shared in dialogue between two poets, as they explore Novalis' definition of poetry as "the truly absolute real." The poetic act is world-changing, the agglomeration of atoms as they fall through space--a sort of "elective affinity," or state of grace--to constitute Being. If Lao Tzu reminds us that the Dao that can be named is not the eternal Dao, this renga, suffused with elements of the natural world, also recognizes that, in the words of Angelus Silesius, "the unnameable, which we usually call God, is expressed and revealed through the Word." L veill and Bloggett share an unprecedented dialogue that possesses both paradox and complete clarity of word in Canada's two official languages.
"With poems that phase between mythologies, E.D. Blodgett and J.R. L veill lend their voices to a chorus of Orpheus, Bede, and Ariel. Ex Nihilo reflects a friendship between poets that ends at the moment of illumination, when figures of speech are taken literally as a dictionary."--Nathan Dueck
Poetry.