No Matter How Dark the Stain: Poems and Inspiration for the Woman in Pain (Paperback)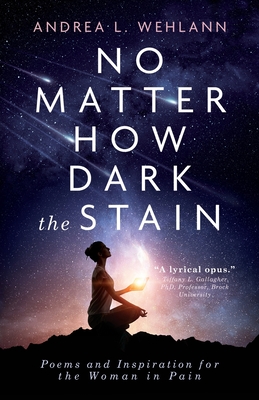 $14.99

Warehouse, In Stock | Usually Ships in 1-5 Days | New
Description
---
Award-winning Canadian poet releases her first full-length book of poetry-inspirational poems for women about self-worth, trauma resilience, and healing.
Healing can happen in an instant. Opening this book of poetry for women is like opening your awareness. It's the first step in the direction of love, of listening to your heart. You are not defined by what happened to you. You are what you do in this moment.
Essentially a collection of love poems for anxious people, No Matter how Dark the Stain acknowledges the innocence of the heart and the child within us all. It meets people in their darkest space and gives a breath of life to the pain and feelings that haunt and keep bad patterns recurring. It offers a light, it sends love and comfort, affirmations, and strength to keep pushing through pain and through that door, which is within, revealing the love and light of awareness and expanding the mind and heart to new possibilities beyond the painful experiences. This book will shine light on darkness to invoke rising closer to our full loving nature, potential.
No Matter How Dark the Stain is presented in three sections:
Poems of love, innocence, and poems of hope from the time before loss, grief, and trauma
Grieving poems for the loss of a child, and poetry about abuse and trauma
Poems of getting over grief, healing poems, poems of hope and gratitude, poems of love, especially self-love.
Where there is light, there can be no darkness. Love is like a switch that heals our darkness.
You've opened your heart. Felt the pieces falling apart. Poet Andrea L. Wehlann has glued her pieces together, on her knees. She tells her yoga students: "That's the thing about the heart. It breaks."
Wehlann's book of poetry for women holds space for your pain. Her words can be your light. Your body wants to heal. Close your eyes, breathe these poems in, into that space we are all open, free, and interconnected.
"You are not alone. You can do this-as I have. You're a star. It's never too late to shine.
Thank you for taking this journey to the light with me."
-Andrea