The Bereavement Code: How To Survive Grief and Move Beyond the Loss of a Loved One (Paperback)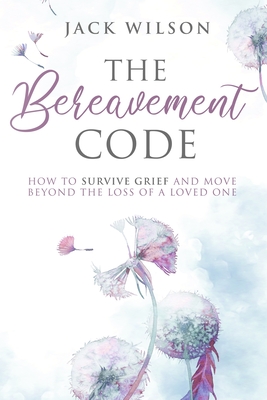 List Price: $19.85
Our Price: $16.87
(Save: $2.98 15%)
Warehouse, In Stock | Usually Ships in 1-5 Days | New
Description
---
That Gut-Wrenching, Agonizing Feeling - Can You Make It Go Away?
When you feel like you can't go on and the pain of grief actually turns into a powerful physical ache... Is there a way to start recovering and going back to life as usual after the loss of a loved one?
The loss of a loved one always has a physical expression. There will be a huge void in your life that simply can't be filled.
Experiencing loss is a normal part of life that nobody can escape from.
When it happens, however, none of us feel prepared for the extensive, devastating consequences.
As important as bouncing back is, few have the skills to make it happen soon enough. For some, the process will take months, even years. Others will be riddled by anxiety, self-doubt and even feelings of guilt that eliminate chances of recovery altogether.
Did I do enough for them?
Did I say "I love you" often enough?
Was there anything I could have done to prevent it?
Questions that will never be answered....
Questions that can come back to haunt you time and time again.
These questions can lead to grief so overwhelming and powerful that it would seem to never end. In fact, 10 to 20 percent of grieving individuals experience this prolonged, life-altering sensation.
Dealing with grief in the absence of the right tools can feel like you're drowning in the deep end of the pool. In the first months after loss, 40 percent of people exhibit the symptoms of clinical depression. For 24 percent, the condition continues even longer.
Grief is characterized by many things that make it nearly impossible for us to function.
Shock. Denial. Despair. Anger. Confusion. Depression.
Coping with grief involves processing those emotions and finding a healthy outlet to accommodate for the major, unwanted life change.
In this book "The Bereavement Code," you'll discover:
Everything that the act of grieving entails - the emotions, the feelings, the helplessness and doubt
A revised and modernized description of the stages of grief
The numerous effects of grief you need to understand in order to process those emotions and start moving forward
Factors that affect the different ways in which people experience grief
Why the duration of grief varies from one person to another
The best ways to address destructive emotions like guilt, fear and anger
What is unresolved grief, when does it happen and what can you do when things don't seem to get better with time
Strategies for overcoming grief through support, social engagement and therapy
And much more.
The author will also share his personal experience and short snippets of his bereavement journey - information that makes the text even more relatable and useful when you feel like you're alone and you can't go on.
Right now, you may believe it's never going to get better.
You probably feel that going back to your before life is an impossibility, giving the scope of love loss.
Jack Wilson is here to tell you that you're not alone, that it does get better and that you can do concrete things to heal and remember your loved ones in a loving, empowering way.
If you need the tools to deal with bereavement and grief after a profound loss, get this book right now.