Transitioning Towards a Knowledge Society: Qatar as a Case Study (Hardcover)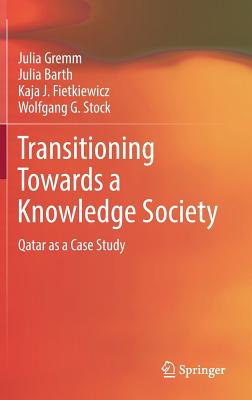 $114.99

Warehouse, In Stock | Usually Ships in 1-5 Days | New
Description
---
Part I: Context
1 Informational Cities in the GCC States
1.1 The Gulf Region
1.2 Background: Cities in the Knowledge Society
1.3 Methods
1.4 Informational Cities in the GCC Countries?
2 Qatar in a Nutshell
2.1 Qatar as a Post-oil Knowledge-based State?
2.2 Geography and Climate
2.3 Demography and Language
2.4 Culture and Religion
2.5 Politics
2.6 Rentier State and Rentier Mentality
2.7 Economy
2.8 Public Health
2.9 Education
2.10 Tradition versus Modernity
Part II: Concept
3 Knowledge Economy and Knowledge-Based Development
3.1 Definition of the Concepts
3.2 Indicators of the Country's Development Status
4 Methods
4.1 Grounded Theory Method
4.2 Rapid Ethnographic Field Study
4.3 Qualitative Interviews
4.4 Quantitative Data Analysis
4.5 E-Government and Government 2.0
4.6 SWOT Analysis
Part III: Connection
5 Diversification of Knowledge-Based Industries and Foreign Investment
5.1 Oil and Gas Industry
5.2 Information Industry
5.3 Renewable Energy Industry
5.4 MICE Industry
5.5 Tourism Industry
5.6 Other Promising Industries
5.7 Foreign Investments
5.8 Summarizing Qatar's Diversification Strategies
6 Creativity and the Knowledge Society
6.1 Creativity and Innovation
6.2 Scientists, Engineers and Physicians and their Scientific Output
6.3 Exchange of Everyday Knowledge
6.4 Summarizing Qatar's Creativity and Knowledge Base
7 E-Government
7.1 Maturity of Governmental Websites
7.2 E-Government Social Media Study
7.3 Summarizing Qatar's E-Government Strategies
8 Knowledge-Based Development
8.1 Support and Restrictions
8.2 Development of the Corporate Landscape in the Knowledge Sector
8.3 Development of K-12 Education
8.4 Summarizing Qatar's Support of Knowledge-based Development
9 Universities and other Institutions of Higher Education
9.1 The University Landscape of Doha
9.2 Level of Research and Education
9.3 Research and University Funding
9.4 Internationality: Opportunity or Risk?
9.5 Summarizing Qatar's Higher Education Ambitions
10 Students and Graduates
10.1 Qatari versus Expatriate Students
10.2 Female versus Male Students
10.3 Public versus Private Universities
10.4 Summarizing Qatar's Higher Education Conditions
11 Transition of Graduates into the Labor Market
11.1 Level of Graduates: Qataris versus Expats
11.2 Different Paths taken by Post-Graduates
11.3 Private versus Public Sector as Employer Prospect
11.4 Can an Increase in Motivation promote Qatarization?
11.5 Summarizing the Possibilities of Qatar's Graduates
12 Libraries, Science Parks and Research Funding
12.1 Libraries and Librarians
12.2 Science and Technology Parks and Science Funding
12.3 Triple Helix Partnerships
12.4 Summarizing Qatar's further Knowledge-Intensive Institutions
Part IV: Conclusion
13 Strengths, Weaknesses, Opportunities and Threats of Qatar's Way into the Knowledge
Society
13.1 Strengths
13.2 Weaknesses
13.3 Opportunities
13.4 Threats
13.5 Hypothetical Scenarios
Index