Missratene Sohne: Anarchismus Und Sprachkritik Im Fin de Siecle (Hardcover)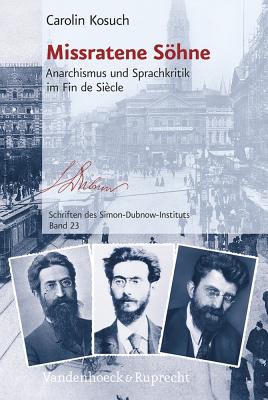 $97.20
This item is backordered and not currently available. Please contact us for an estimated availability date.
Description
---
English summary: Fritz Mauthner, Gustav Landauer and Erich Muhsam lived according to their own self-designed blueprints of resistance. These countermodels for life were aimed at the bourgeois world their fathers had helped to build (in the so-called Grunderzeit). They viewed rebellion and revolution as a suitable way of life. Carolin Kosuch shows, on the one hand, how these three thinkers from German-Jewish bourgeois families fled from a reality dominated by their fathers to a remote past; on the other hand, she points out how deeply rooted their synchronized efforts were in their common aspiration to overcome modernity. The study provides in-depth insights into the relationship between generational experience and critique of the real world. German description: Fritz Mauthner, Gustav Landauer und Erich Muhsam, drei Burgerssohne aus deutsch-judischem Hause, lebten einen Selbstentwurf lebensweltlichen Widerstands. Dieser richtete sich gegen die in der Grossstadt sinnfallig gewordene Moderne, gegen eine Welt, die ihre Burger-Vater gebaut hatten. Sie erhoben Renegatentum und Revolution zum Programm - theoretisch in der Sprachkritik Mauthners, zwischen Theorie und Praxis vermittelnd in Landauers anarchistischem Credo des Beginnens und im Kaffeehaus uber die gelebte Praxis der Boheme beim Anarchisten Muhsam. Carolin Kosuch macht das generationelle Band sichtbar, das die drei Protagonisten zusammenhielt. Auf Basis ihrer publizistischen und personlichen Zeugnisse zeigt sie, wie Mauthner, Muhsam und Landauer einerseits aus der vaterbesetzten Realitat in eine weit zuruckliegende Vergangenheit fluchteten; und andererseits wie sehr ihr Gleichklang sich aus ihrem gemeinsamen Bestreben fugte, die Entfremdungen der Moderne zu uberwinden. Die Studie uber die drei Burgerssohne einer Zeit des Ubergangs von der Grunderzeit der Vater in eine rebellische Utopie erlaubt tiefe Einblicke in den Zusammenhang von generationeller Erfahrung und Kritik der Lebenswelt.
About the Author
---
Dr. Carolin Kosuch ist Wissenschaftliche Mitarbeiterin am Deutschen Historischen Institut Rom.