Sketching Women: Learn to Draw Lifelike Female Figures, a Complete Course for Beginners - Over 600 Illustrations (Paperback)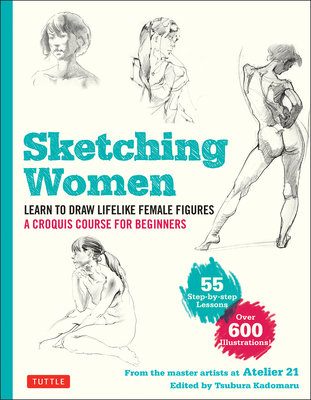 List Price: $19.99
Our Price: $16.99
(Save: $3.00 15%)
Warehouse, In Stock | Usually Ships in 1-5 Days | New
Description
---
In Sketching Women, three professional studio artists (Kozo Ueda, PhD, Takahiro Okada, PhD and Minoru Hirota, PhD) join forces to show you how to sketch the female figure through 55 step-by-step drawing lessons.
Each instructor walks you through their philosophy for croquis sketching. Croquis sketches are quickly-rendered drawings that capture the essentials of a subject's form and pose with relatively few expressive lines.
There are four levels of sketching described in the book:
1-minute croquis: very rapid gesture drawings that capture only the artist's impressions of the form, and where the pencil stays in contact with the paper for practically the entire session
2-minute croquis: another quick sketch, but with more attention paid to the character and rhythm of the lines and how they help to express the essence of the form
5-minute croquis: a more finished drawing where added tonal variations suggest volume and anatomical details
10-minute croquis: more of a finished drawing than true croquis, the longer session allows the luxury of adding fine details such as the facial expression, the character of the hands and clothing texture
Learn to sketch the following:
Individual body parts (including faces) and their bone structure and muscles
Standing and sitting poses
Nudes and clothed figures
Light and dark tonal variations
Dynamic poses
Color drawings
You'll quickly hone your sketching skills with this life-drawing classroom-in-a-book. The expert advice and observations, dozens of poses to study, as well as easy-to-understand notes and tips make it easy to understand how the skeleton, muscles and posture all come together to express the uniquely female form.
About the Author
---
Studio Atelier 21 was founded in 1999 by three class of 1983 Tokyo University of the Arts classmates (Kozo Ueda, Takahiro Okada and Minoru Hirota). Atelier 21 is a workspace dedicated to providing inspiration and creative stimulation to these three artists. Find out more on the website atelier21.jpKozo Ueda graduated with honors from the Tokyo University of the Arts' oil painting program, where he went on to complete the doctoral program. He has painted murals and exhibited his artwork in Japan.Takahiro Okada graduated with honors from the Tokyo University of the Arts' oil painting program, where he went on to complete the master's program. He has exhibited his award winning artwork throughout Japan.Minoru Hirota graduated with honors from the Tokyo University of the Arts' oil painting program, where he went on to complete the master's program. He has exhibited his artwork throughout Japan.Edited by: Tsubura Kadomaru has loved sketching and drawing all his life. In high school, he rehabilitated a failing art club, which he transformed into a manga and Gundam fan club where he helped to nurture the talents of future game designers and animators working in the industry today. Kadomaru studied oil painting at the Tokyo University of the Arts. He has edited many Japanese art instruction books, including Tuttle Publishing's Sketching Men