The Ultimate Guide to Drawing Manga Action Furries: Create Your Own Anthropomorphic Fantasy Characters: Lessons from 14 Leading Japanese Illustrators (Paperback)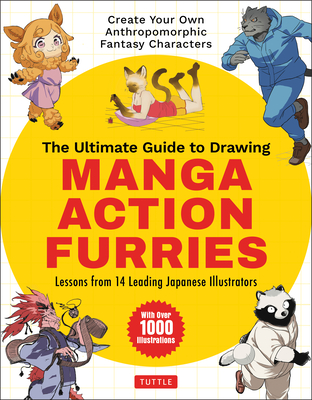 List Price: $18.99
Our Price: $16.14
(Save: $2.85 15%)
Warehouse, In Stock | Usually Ships in 1-5 Days | New
Description
---
Bring your own anthropomorphic fantasy characters to life
Furries fuse human and animal characteristics to create unique and fantastical hybrid forms. This book contains everything you need to start drawing furries for the printed page, for the screen, or for cosplay characters. Follow the lead of 14 professional Japanese artists as they show you how to create scores of unique human-animal hybrid characters. In the hands of these expert teachers, you'll learn to draw:
Fierce reptilian fighters and beastmen
Cute chibi versions of your favorite pet animals
Furries seen from every possible angle and perspective
Realistic poses with believable motions performing dynamic actions
Characters based on cats, dogs, wolves, foxes, goats, birds, whales, sharks, horses, crocodiles, dragons--and many more
Create furries for every situation and scenario and learn how to develop compelling and complex characters for the stories you want to tell. Let your imagination run wild as your anthropomorphic creations come to life, spring into action, and leap off the page.
About the Author
---
Hitsujirobo specializes in character design, illustrations and manga featuring animals and furries. Madakan's anthropomorphic illustrations are inspired primarily by insects and marine creatures. Yuzpoco is a manga assistant and doujin aritist, which refers to self-publishing magazines, novels, or comics/manga. Kinoshita Jiroh is a manga artist that focuses specifically on drawing furry characters and has designed some characters in anime, including "Tokyo Afterschool Summoners." Ishimura Reizi is a freelance character designer and manga artist, who worked in game development by designing characters, character goods, and direction. Kinoshita Jiroh is an illustrator that specializes in drawing male furries. Morikita Sasana is an artist that focuses specifically on female furries, such as foxes, cats, and dogs. Dori is a painter that is known for drawing male feline furries. Yamayagi Yama is a freelance illustrator who designs and draws characters--mostly men and monsters--for play-by-web and social games. Suzumori is a 3D computer graphics modeler and manga artist. Mabo is an illustrator and a manga artist that has worked on anime, such as "Sengoku Puzzle!! Animal Daizen" and "Wolf + Kaleshi." Yow is an illustrator and manga artist specializing, most recently, in kemono characters. Itohiro is an illustrator that specializes in drawing dragons and worked on Digimon. Muraki is a freelance illustrator who specializes in character design and illustrations for books and games.