El mito de Sísifo / The Myth of Sisyphus (Paperback)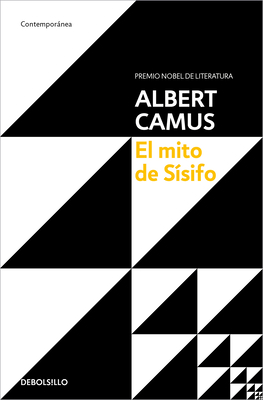 List Price: $12.95
Our Price: $11.01
(Save: $1.94 15%)
Warehouse, In Stock | Usually Ships in 1-5 Days | New
Description
---
«No hay sino un problema filosófico realmente serio: el suicidio.»

El mito de Sísifo es el ensayo fundacional de la filosofía del absurdo, una obra mayúscula que dio a conocer el gran talento de Albert Camus. Publicada en 1942, el mismo año que El extranjero, fue una de las primeras obras que revelaron al público la inteligencia y la sensibilidad del autor.

El título del ensayo hace referencia a un personaje de la mitología griega que enfadó a los dioses por su extraordinaria astucia y fue condenado a empujar perpetuamente una piedra enorme montaña arriba. Al llegar a la cima, la piedra volvía a caer hasta el valle, desde donde Sísifo debía volver a empujarla hasta la cumbre, y así eternamente. Por medio de esta alegoría, Camus discute la cuestión del suicidio y el valor de la vida, presentando a Sísifo como imagen del esfuerzo inútil e incesante del hombre. De este modo plantea la filosofía del absurdo, según la cual nuestras vidas son insignificantes y no tienen más valor que el de lo que creamos. Siendo el mundo tan fútil, pregunta Camus, ¿qué alternativa hay al suicidio?

ENGLISH DESCRIPTION

One of the most influential works of this century, The Myth of Sisyphus—featured here in a stand-alone edition—is a crucial exposition of existentialist thought. Influenced by works such as Don Juan and the novels of Kafka, these essays begin with a meditation on suicide—the question of living or not living in a universe devoid of order or meaning. With lyric eloquence, Albert Camus brilliantly posits a way out of despair, reaffirming the value of personal existence, and the possibility of life lived with dignity and authenticity.
About the Author
---
Albert Camus (Mondovi, Argelia, 1913 - Villeblevin, Francia, 1960) fue uno de los escritores e intelectuales franceses más importantes del siglo XX. Escribió novelas, relatos, ensayos, crónicas y obras de teatro. También llevó a la escena ambiciosas adaptaciones de novelas modernas y de clásicos dramáticos españoles. Durante la ocupación alemana dirigió el periódico de la Resistencia francesa Combat y, después de la guerra, defendió siempre una posición de izquierdas, aunque se fue alejando del marxismo y el comunismo. Entre sus libros destacan las novelas El extranjero, La peste y La caída; las piezas teatrales Calígula, El malentendido y Los justos; y los ensayos El mito de Sísifo y El hombre rebelde. Autor de una obra amplia y polifacética, Albert Camus recibió el Premio Nobel de Literatura en 1957 «por su importante producción literaria, que ilumina con lúcida seriedad los problemas de la conciencia humana de hoy».