Drácula de Bram Stoker (Paperback)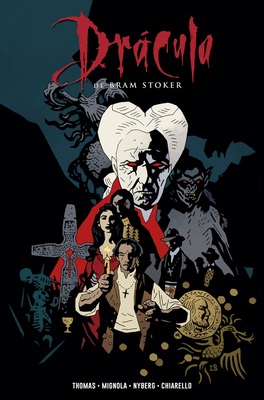 List Price: $29.99
Our Price: $25.49
(Save: $4.50 15%)
Description
---
La magnífica adaptación al cómic de la película de Francis Ford Coppola En 1992 se estrenó la versión cinematográfica de Drácula de Bram Stoker, una magnífica película dirigida por Francis Ford Coppola con un estilo único y memorable. Coincidiendo con su lanzamiento, dos grandes del cómic como son Roy Thomas y Mike Mignola crearon su adaptación al cómic maravillando a crítica y público. Por desgracia, ciertos temas legales han impedido su reedición en los últimos 20 años, convirtiendo la obra en leyenda y las copias existentes en preciados tesoros. Por fin, tras más de dos décadas, vuelve a estar disponible esta gran obra. En un formato ampliado, en blanco y negro, y con escaneos del arte original de Mike Mignola como complemento, presentamos esta edición especial para que nuevos lectores descubran este clásico perdido en el tiempo.

In 1992, Francis Ford Coppola's movie version of Bram Stoker's Dracula appeared with its unique and memorable style. In tandem with its release, Roy Thomas and Mike Mignola created their comic adaptation to great acclaim. Sadly, legal troubles have prevented its re-release over the past 20 years, making the book something of a legend. More than two decades later, this incredible book is available once more. This edition is enlarged in black and white and includes scans of Mike Mignola's original artwork. Readers can now discover this classic lost in time.
About the Author
---
Roy Thomas is an American screenwriter and comic book editor. He was the second editor-in-chief of Marvel Comics and is known in particular for his comic adaptation of Conan the Barbarian.