Defiant German, Defiant Jew: A Holocaust Memoir from inside the Third Reich (Paperback)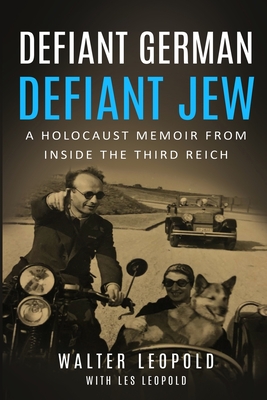 $25.14

Warehouse, In Stock | Usually Ships in 1-5 Days | New
Description
---
Could German Jews have done more to rebel against the Nazis and resist deportation to slaughter?

Dr. Walter Leopold faced this question in real time, and shares his story of Jewish resistance in this shocking WW2 diary.
Through the eyes of a self-declared "revolutionary Jew" we follow Walter into the hell of the Buchenwald concentration camp in 1938, from which he is miraculously released. Pressured by the Gestapo to flee the country, he refuses. We will never know why. He would have saved himself and his young family unimaginable hunger, thirst and fear. Yet, against all odds, they managed to survive as he continued his fight against Fascism.
His beloved Alsatian dog is executed in 1941 when the Nazis insanely demand the extermination of all pets owned by Jews. Walter, with a Star of David on his sleeve, is forced in 1942 to round up stray Jews for deportation, carrying a concealed weapon at all times, willing to take his own life rather than be captured by the Gestapo.
Through enormous subterfuge, Walter gains employment as an auditor in the Nazi Administration while continuing to agitate against Hitler.
He wages his lonely war inside the Third Reich with a wife and a very young child, where one errant word, one prying eye from the past, one astute Nazi informer would have meant certain death.
Dr. Walter Leopold is the epitome of the defiant German, the defiant Jew.