La mort de la liberté d'expression: La destruction de l'indépendance et de l'opinion du citoyen par la mondialisation, les élites progressistes et les (Paperback)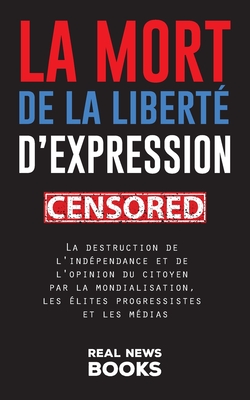 List Price: $16.99
Our Price: $14.44
(Save: $2.55 15%)
Warehouse, In Stock | Usually Ships in 1-5 Days | New
Description
---
The Death of Free Speech est un livre sur la destruction de l'individualit et de l'opinion du citoyen par la mondialisation, les lites progressistes et les m dias.
Ce livre fournit une analyse approfondie de la mani re dont la libert d'expression a t rod e dans les pays occidentaux et propose des solutions pour la prot ger.
La libert d'expression est l'un des droits les plus importants dont jouissent les Occidentaux. Elle nous permet d'exprimer nos opinions et nos croyances sans crainte de repr sailles, et elle est une pierre angulaire de notre d mocratie. Toutefois, ce droit est menac par un certain nombre de forces. La mondialisation a conduit l' mergence de soci t's transnationales qui ne d pendent d'aucun gouvernement. Ces entreprises ont un pouvoir et une influence consid rables, et elles sont souvent plus pr occup es par leurs r sultats financiers que par les droits des citoyens. En outre, les lites progressistes tentent de plus en plus de faire taire les voix dissidentes. Elles pr tendent que certaines opinions sont "offensantes" ou "dangereuses", et elles utilisent leur pouvoir pour mettre fin au d bat et la discussion.
Enfin, les m dias jouent un r le dans cette tendance. Le cycle de nouvelles de 24 heures et la popularit des m dias sociaux ont cr un environnement dans lequel les gens sont constamment bombard's d'informations. Par cons quent, il est difficile de trouver le temps ou l'espace pour examiner de mani re critique les probl mes auxquels notre soci t est confront e. Il est donc plus facile pour les personnes au pouvoir de contr ler le r cit et d' touffer les voix dissidentes. La mort de la libert d'expression serait une trag die pour notre d mocratie. Il est essentiel de lutter contre ces forces si nous voulons pr server nos droits et notre souverainet individuelle.
The Death of Free Speech est un ouvrage incontournable pour tous ceux qui veulent comprendre l' tat actuel de la libert d'expression et lutter pour sa pr servation.
Achetez The Death of Free Speech d's aujourd'hui