Scholarly Man of Faith: Studies in the Thought and Writings of Rabbi Joseph B. Soloveitchik (Hardcover)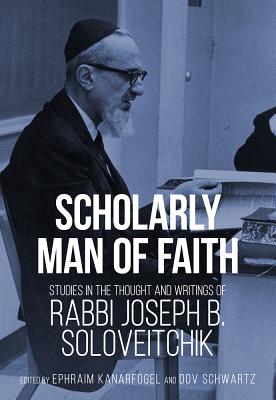 $33.29
This item is backordered and not currently available. Please contact us for an estimated availability date.
Description
---
This book sets forward a series of interesting and less-explored aspects of Rav Joseph B. Soloveitchik's teachings. These essays delve into the Rav's approach toward understanding biblical figures, his views on emotions and intellect, his appreciation of R. Yehudah ha-Levi, his understanding of medieval history, and the implications for modernity.
About the Author
---
Ephraim Kanarfogel is a Professor of Jewish History, Literature and Law at Yeshiva University's Bernard Revel Graduate School of Jewish Studies and a winner of the National Jewish Book Award for Scholarship and the Goldstein-Goren International Book Prize in Jewish Thought. Dov Schwartz is Professor of Philosophy at Bar-Ilan University
Praise For…
---
"This volume addresses a series of fascinating yet until now less-explored teachings of the Rav. And them are the Rav's take on major personalities in the Tanach, in light of his views on emotion, intellect and the interrelationship of these facets in the Rav's teachings" —Alan Jay Gerber, The Jewish Star

"'In Scholarly Man of Faith,' said Dr. Kanarfogel, 'outstanding international scholars examine areas of his intellectual endeavors that have not been fully explored, making the volume valuable to anyone interested in the rav's teaching... I have had the pleasure of investigating with my fellow scholars the forces that have shaped the distinct elements of the Jewish character.'" —JLNJ Staff, www.jewishlinknj.com

"With essays on topics such as Biblical Hermeneutics in the Thought of R. Soloveitchik: A Preliminary Appraisal of the Influence of R. Yehudah Halevi, Science of Hermeneutics? Rav Soloveitchik's Scientific Method Revisited and more, this is a book by serious scholars and meant for a readership well-versed in western philosophy and at home with Rav Soloveitchik's worldview. For such readers, Scholarly Man of Faith is a reminder just how timeless and relevant Rav Soloveitchik was, and is." —Ben Rothke, http://www.jewishpress.com