The Selective Mutism Treatment Guide: Manuals for Parents Teachers and Therapists. Second Edition: Still waters run deep (Paperback)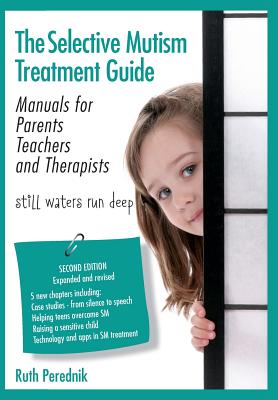 $19.95

Warehouse, In Stock | Usually Ships in 1-5 Days | New
Description
---
The Selective Mutism Treatment Guide: Manuals for Parents, Teachers, and Therapists, second edition has arrived It is double the size of the first edition and it includes new sections on treating older children and teens, the use of technology in treating SM with a list of useful apps, raising a shy child, treating SM in the clinic setting, and much more. It includes beautiful and inspiring case studies of children and teens overcoming SM using this approach.
It is an innovative, effective approach to the treatment of selective mutism, which is based both on rich clinical experience helping hundreds of children overcome SM, and on evidence based understanding of how selective mutism best treated. It includes separate manuals written for parents, school or kindergarten staff, and therapists, each with concrete, effective, tried and tested ways of helping the child with selective mutism. It is designed to be a positive and empowering experience for the child and his family.
This guide is aimed for professionals and lay people alike: For parents and relatives of children with SM it offers a valuable resource to understand the condition, with programs and tools to help the child to improve his verbal and social communication. For teachers and therapists it provides a guide to understand, and practical tools to treat the disorder.
The Parents' Manual includes sections about how SM can affect your child and family, how to speak to your child about SM, how to treat SM, how to lower your child's anxiety, and how to work together with the school or kindergarten to help your child. It outlines effective interventions that parents can carry out at home and in school to help their child overcome SM and attain improved social communication skills.
The Teacher's Manual includes: a description of SM and its possible causes, understanding the child with SM, how SM presents in school, an overview of how to treat SM, and a variety of interventions and programs for teachers to implement in school.
There are two Therapist's Manuals - one for younger children, and the second for teens and adults, with cognitive-behavioral techniques specifically for use in treating SM. There are sections on the definition and causes of SM, methods of assessment, levels of SM, planning therapy, and detailed, step by step descriptions of the stages of therapy, including initial home-based therapy followed by school based sessions.
Here are some readers' reviews of the first edition:
B.W. wrote: This treatment guide is concise, easy to read, clear and an absolute gem of a book. Each word is carefully chosen and the style flows with warmth, sensitivity and intelligence. I loved the respect with which the author and Psychologist Ruth Perednik treats the reader; the manual is no less than brilliant in its' ease of explanation and significant in its power as a catalyst for change; Belief and optimism, based on the author's vast clinical experience pervaded throughout. Perednik's clearly detailed program is aimed at parents, teachers and therapists.
Perednik has done a wonderful job of increasing the likelihood of successful treatment even in the absence of such ideal conditions. Perednik's apparent wholehearted belief in her approach, tools and program to unravel the knot of selective mutism, leads her to spell out the rationale and implementation of an entire program, thus enabling her readers to carry out a successful treatment without making them dependent on further training or support. Optimistic, Practical, Extremely user friendly. Engaging and inspiring..
S.B. wrote: GREAT BOOK IT WORKS GREAT QUICK RESULTS BEST IN THE FIELD HAS GREAT INTUITION IN THESE MATTERS EASY READING CLEARLY SAID TRY & SEE
Duggie wrote: This gave me practical information for working with children with selective mute. I have been able to try different techniques with success. I also learned the many causes of this diagnosis.
About the Author
---
Ruth Perednik is a psychologist who has specialized in child anxiety disorders and selective mutism for over two decades. She runs municipal and private clinics for the treatment of selective mutism. She is the author of "The Selective Mutism Treatment Guide: manuals for Parents, Teachers and Therapists", which has been translated to several languages. She has developed an effective treatment for SM, which has helped hundreds of children overcome SM, both through direct intervention by parents, teachers and therapists, and utilizing her online treatment intervention. She is a sought after speaker and therapist internationally. She studied psychology at University College London, and The Hebrew University of Jerusalem.