Unbreakable: How I Turned My Depression and Anxiety Into Motivation and You Can Too (MP3 CD)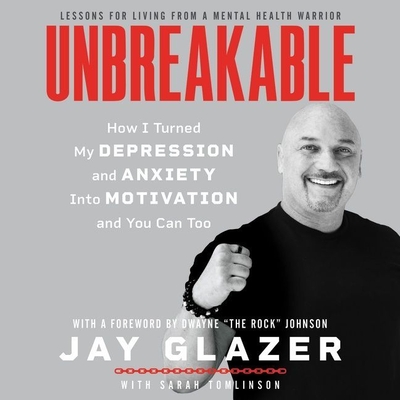 $41.99
This item is backordered and not currently available. Please contact us for an estimated availability date.
Description
---
Jay Glazer--a top NFL insider on Fox NFL Sunday, an MMA coach, actor, and a veteran advocate and founder of MVP (Merging Vets and Players)--offers honest, in your face advice and insights gleaned from his fight through depression and anxiety, his successful careers in NFL journalism and business, as well as his work with military vets struggling with PTSD; the result is a relentless, unapologetic, and no-nonsense approach to overcoming your self-doubts, fears, and excuses... with the goal of becoming Unbreakable.
In Unbreakable, Jay Glazer talks directly to you, his teammates, and shares his truth. All the success from his screeching-and-swerving joy ride through professional football, the media, the MMA fighting world, Hollywood, the military-warrior community, comes with a side of relentless depression and anxiety. Living in the gray, as Jay calls it, is just a constant for him. And, in order to work through and work better, Jay knows he has to keep going, to be of service, to believe in himself when no one else will, and be stronger, tougher, and more dedicated than anyone. Unbreakable is his story of how he has done this in all of his many endeavors--a relentless insider who won't quit talking or take his foot off the gas, whether detailing how he got his big break inside the NFL (it involves a friendship with Michael Strahan that seems too unlikely even for Hollywood) or helping veterans fight for their lives in gyms around the country or playing himself on the hit show Ballers, Jay's ability to laugh at himself and take on his mental struggles has given him a clarity, toughness, and openness that few people can rival.
Throughout Unbreakable, Jay will use his stories--featuring some of the biggest, baddest, and most fascinating characters in the public eye today--to tackle the toughest subjects by making you laugh. He will also use them as motivation to outline a prescriptive plan for you to get to the top of your game, whatever your game is, and to stop making excuses. He will show you how to use your insecurities, your own battles with mental health, to get where you need to go, scars and all.
Especially scars and all.
Supplemental enhancement PDF accompanies the audiobook.