All the Duke I Need: Desperately Seeking Duke (MP3 CD)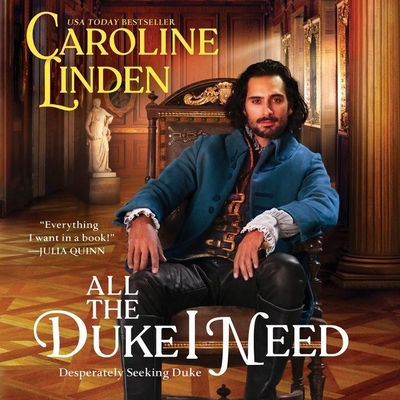 $41.99
This item is backordered and not currently available. Please contact us for an estimated availability date.
Description
---
The delightful search for the true Carlyle heir continues in this next book in the sexy Desperately Seeking Duke series from USA Today Bestselling Author Caroline Linden
She's a duchess in all but name
Philippa Kirkpatrick has been raised at Carlyle Castle by her doting guardian, the Duchess of Carlyle. Preoccupied with the succession of the dukedom and the duke's health, the duchess has left the estate in Philippa's hands--and Philippa is determined not to let her down.
He's not a duke at all . . .
The arrival of a new estate steward should be a relief, but instead it threatens to upend everything. William Montclair is handsome, brash, and scandalously bold. The horrified duchess wants to sack him on sight. Philippa is just as shocked . . . but also, somehow, charmed.
But could he be her hero?
Carlyle cannot be her home forever, but Philippa is determined to leave it in good hands. She means to teach Will how to run the estate properly and love Carlyle as she does. The more time she spends with Will, though, the more she likes him . . . trusts him . . . even loves him. Unfortunately, she's also more and more certain that Will is keeping secrets that could break her heart.