Of Boys and Beasts: a Reverse Harem Paranormal Romance (Paperback)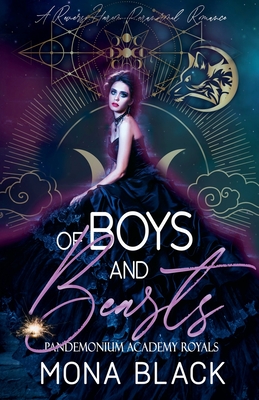 $17.84

Warehouse, In Stock | Usually Ships in 1-5 Days | New
Description
---
One's a werewolf with an ax to grind
Two's a vampire with a heart of coal
Three's a demon with a taste for pain
Four's a fae with a past of woe
Five's a girl who will take them down all
In revenge for the pain they've sown
So what if they're gorgeous? They must atone...
My name is Mia Solace. You know, the girl who will take them down all? That's me.
When my cousin is returned to us by Pandemonium Academy in a glass coffin, in an enchanted sleep she isn't expected to wake up from, I grab her diary and head to the academy myself.
Because her diary, you see, tells of four cruel boys who bullied her and broke her heart until she sought oblivion through a spell.
Four magical boys, because that's the world we live in now, heirs of powerful families attending this elite academy where the privileged scions of the human and magical races are brought together in the noble pursuit of education.
As for me, I cheat to get on the student roster, and once I'm in, well... it's war, baby. I'll get those four sons of guns, steal their secrets, make them hurt. I'll transform into an avenging angel for my cousin, for all the girls they've wronged, and I bet there are plenty of those.
While growing up, my cousin was my only friend. Now I'll be her champion.
Only these boys aren't exactly as I pictured them. Devastatingly handsome, deliciously brooding, strangely haunted, they're getting under my skin and through my defenses.
Kissing them surely wasn't part of my plan...
Getting into bed with them even less.
*OF BOYS AND BEASTS is a full-length paranormal reverse harem romance novel, meaning the main character has more than one love interest. This is book one of four, and it ends on a slight cliffhanger. There is a happily ever after at the end of the series.
This novel contains enemies-to-lovers/love-hate adult themes, foul language and humor as well as explicit content with darker elements. By book 3 there will be mm scenes. For 18+ only.*
* This book uses alternating points of view.*