Great Purpose The Life of John W. Nason, Philosopher President and Champion of Liberal Learning (Softcover Deluxe) (Paperback)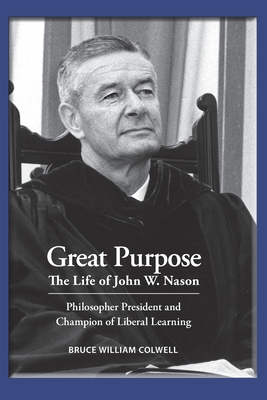 $39.38

Warehouse, In Stock | Usually Ships in 1-5 Days | New
Description
---
"The great purpose of a life," said philosopher William James, "is to spend it on something that will outlast it." By that standard, as well as many others, John William Nason (1905-2001) succeeded beyond measure.
Great Purpose chronicles-in compelling narrative and 275 images-the life of a preeminent 20th century American educator and rationalist philosopher, a fierce champion of liberal learning and of that distinctly American institution, the small residential liberal arts college.
Named president of Swarthmore College at age 35, Nason guided it through the adversities of World War II. While serving as president of the Foreign Policy Association, he helped provide hundreds of thousands of Americans with an accurate, objective understanding of world affairs during the Cold War. And the curricular changes, commitment to diversity, and governance reforms he implemented while president of Carleton College in the tumultuous 1960s not only positioned it to become one of the nation's leading liberal arts colleges, but have continued to serve it well for more than five decades.
This biography will be of interest and value not only to those who care about the histories of Carleton College and Swarthmore College but to those concerned with the history of higher education-especially of liberal arts colleges-during the momentous period of institutional change that began with World War II and extended through the Vietnam War era.