Clown Fish as Pet: A guide to care, understand and keep your clown fish healthy always (Paperback)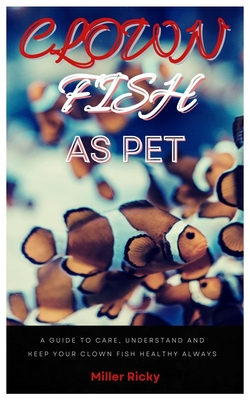 $6.99
This item is backordered and not currently available. Please contact us for an estimated availability date.
Description
---
Clown fish live in a very small area. They can be kept alive in smaller aquariums. However, larger aquariums are more beneficial for many reasons. A Clown aquarium should have a minimum of 40 litres. A marine aquarium can be more complicated than freshwater and could prove fatal to any fish in it. A marine aquarist must be well-informed and willing to spend the effort, time and money necessary to make it a success.
Here is a list that will help you keep clown fish in check:
* Tank - At least 30 litres
* Water - A specialized sea salt mixture with a water age
* Sand - Small grained Sea Sand
* 1kg of live rocks per 20 litres minimum of water
* Filter - Any type of mechanical filter will work (optional).
* Circulation - A small internal pump "100 litres per hour" to circulate the water
* Ammonia Test Kit - To test for ammonia levels in water
* Heating - 100 Watts of heating for 50 litres
* Lighting - One or more fluorescent lights
* Thermometer - To test the temperature
* Hydrometer - To test water salinity
* Kit to test for nitrites in water
* pH Test - To test the pH of water
There is more to learn in this amazing book, this guide have been designed to educate and teach you all you need to know about The clown Fish...
Get it now...