At Least Know This - CPA Review - 2021 - Financial Accounting and Reporting (Paperback)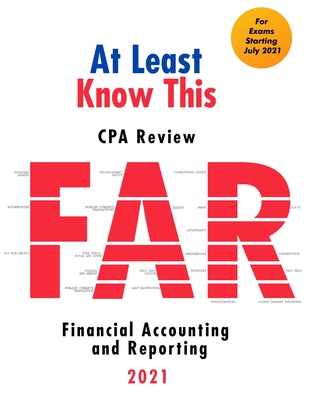 $27.50
This item is backordered and not currently available. Please contact us for an estimated availability date.
Description
---
We are shipping the July 2021 edition from this page. Several topics have been cut in accordance with updated CPA Exam Blueprints.
At Least Know This publishes a 45-page review for Financial Accounting and Reporting. We do not believe students must memorize 300 pages of review to pass the CPA exam. And, given fewer pages, we find that students have greater retention.
To lighten our books, we use wider page margins, decrease font, and eliminate redundancy. We use tables because they structure and compare information efficiently. We teach with examples. And we improve the quality of our writing. The result is FAR in 45 pages.
Fake cash method-Classic accounting framework for converting to and from cash flow. This method is intuitive because, in a simple construction, cash and net income are equal and opposite.
T-account methods to solve intercompany sales and foreign currency transactions.
Updates to reflect Credit Loss ASUs (2020) and SEC amendment for accelerated filers (Oct. 2020).
July 2021 updates to remove IFRS, pension accounting and derivative accounting.