Credit Secrets: 2 Books in 1 - The Complete Guide To Repair Your Credit Score Fast And Be The Owner Of Your Dream House (Includes 609 (Paperback)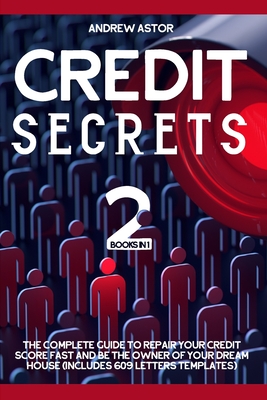 $18.95
This item is backordered. Please contact us for an estimated availability date.
Description
---
Want To Buy The Car You Have Always Wanted, Or Get The House To Raise Your Family? Ensure That Odds Are In Your Favor And Blast Your Credit Score
Many households around the globe live on credit and this is just how the system works. More often than not, we do not possess the liquidity to buy that Flat-Screen TV, the Car That We Have Been Saving for, or The House That Would Suit Our Needs...
And then, you go to the bank hoping to sign a good loan deal... yet only to find that your credit score is merely enough for the consultant's pleasant denial...
... All of this can be stressful and cause anxiety, but... It doesn't have to be this way.
There Are Particular Steps That You Can Take. All Of Them Are Suggested Are Brought On One Place In This Powerful Bundle
Should you decide to dig deeper within the pages, you will:
Learn What Are The Fastest Ways to Build Up Your Credit Score and get the desired loan consent
Find Out How To Keep Your Score Healthy in a simple and effective way
Overcome The Fear of Getting Started and free yourself from the anxiety to plan your future
Reveal Efficient Strategies To Repair Your Bad Credit and immediately start applying them
Nail Your 609 Letter with ready-to-go templates
... and many other useful insights...
Credit repairing may take some time, but...
One thing is certain - the sooner you start, the better off you will be in the long run. Luckily, the right tool is just within your reach, you just need to grasp it. Start applying the principles, let it do the rest.
No Need To Stress Over Your Future Plans...
... Order Your Copy and Secure Them