Social Media Marketing: Learn How to Become a Skilled Influencer on Facebook, Instagram, YouTube and Twitter: Top Digital Networking and Perso (Paperback)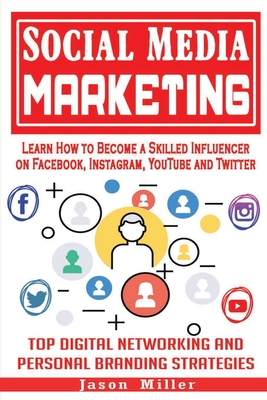 $13.99

Warehouse, In Stock | Usually Ships in 1-5 Days | New
Description
---
2021 UPDATED EDITION
Learn SOCIAL MEDIA MARKETING in Plain English - Step by Step
Master Social Media Marketing & become an expert
Get your Social Media Marketing book collection Now
Every day, your company is losing sales simply because you do not have a clear path to attract new customers. You're not alone.
In today's job market and entrepreneurial landscape, there is no room for being another face in the crowd. You have to separate yourself from the competition. You have to be more appealing to your target audience and you can achieve it by creating a recognizable personal brand. This is an advanced guide to building your personal brand.
In this guide, we're going to explain how you can gain exposure through earned media, advertising and a few other strategies. Following the steps in this chapter will give you formulas for creating content that is appealing to your target audience while establishing you as an authority.
You will learn:
Why Every Business Needs A Social Media Marketing Strategy
The Key Foundations for Every Successful Social Media Marketing Plan
The Most Effective Content to Share on Social Media (And How to Make It)
Learn to market your business and your brand on Facebook, Instagram, YouTube, Twitter and all major social media marketing platforms
Find a better job so you can earn more money and be happy to go to work every day
Win more clients for your company to increase sales and increase your earnings
Land better clients for your company to make your company more efficient
Build online communities to further increase professional opportunities
Lay the foundation for future success; How-ever you define it
The best time of day for you to post content
And much, much more
If you were building an online presence from scratch today, what are the things would you consider to provide the biggest ROI on your time and money? Branding on a business-level is common, but today branding is becoming just as important on a personal level. After all, you might work for a business that works with other businesses, but it's people working with people and that's what makes business relationships valuable.
The purpose of this guide is to cover as much as possible about the process of building a personal brand. Follow steps exactly or use certain information and create your own steps for finding success.
Don't get left behind Let this book help you get the most from every minute and dollar you spend on marketing.