Goal Getter 100 Days Goal Planner 2021: 100 Day Gratitude Journal & Goal Planner-2021 Goal Setting Planner Watercolor Cover Design-Goal Getter Workboo (Paperback)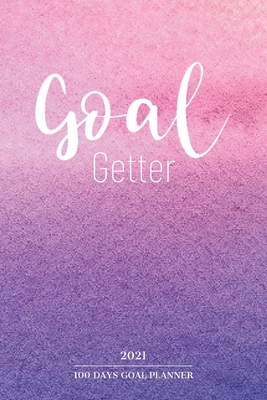 $6.99
This item is backordered and not currently available. Please contact us for an estimated availability date.
Description
---
*GOAL GETTER 100 DAYS GOAL PLANNER 2021*What are you looking to accomplish in the next 100 days?
Maybe you want to start a business, write a book, lose weight?
Start with these steps...
CREATE A DAILY ACTION PLAN - to accomplish the big goal, you have to set smaller goals within the big goal. Through affirmations and smaller tasks you define your actions steps, and stay on track.
TAKE TIME TO REFLECT - this is important to do because it allows you to take a look at what you've done, there may be room for improvement in some areas. This gives you an opportunity to learn from your experience or outcomes.
GET YOURSELF AN ACCOUNTABILITY PARTNER - having someone to report your progress to helps to continue with ongoing results.
STAY FOCUSED - have ONE goal to focus on, it's so easy to get turned away by "shiny object syndrome". Dedicate your thoughts and actions to your goal on a daily basis.
The 2021 Goal Getter Planner is what you need to help with these steps to achieve your goal Everyday start with what you are grateful for, remind yourself everyday of what your goal is, list your 5 tasks for the day and then take time to write your thoughts at the end of your day.
Features:
120 pages (a page for each day, a page for reflection at the end of the 100 days, blank pages for notes)
Premium glossy cover
Motivational quotes
To see more of our products click at My Bright Future Publishing (Author) above
Best Wishes.