The Best Intelligent Investor: Beginner's Guide for a Foundation in Personal Finance, Wealth Creation, Mutual Funds & Dividend growth investing. Trad (Paperback)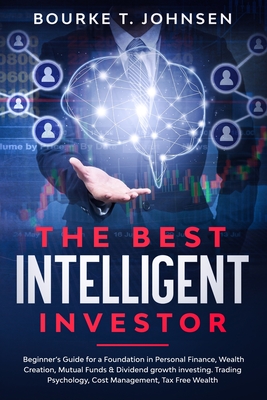 $19.99

Warehouse, In Stock | Usually Ships in 1-5 Days | New
Description
---
Learn the Art and Craft of Creating Huge Wealth Even by Investing Small Amounts
The Little Secrets No Finance Advisor Would Ever Want You to Know
Have you ever wondered about the kind of money you'll need to support needs when you retire?
Don't you aspire to have a retirement where you could just relax and not worry about expenses?
Do you think you'll be able to save for the college fee of your toddler by the time its needed? Can you guess its scale?
If you have been worried about such things and want to have the money to achieve your financial goals, then Read More...
Investing is the craft of creating wealth from nothing. This book would help you understand how you can create hundreds of thousands of dollars just by investing $10 a week. It isn't a hoax, and neither it is some mathematical manipulation. It is the magic of compounding interest.
If you want to understand the miracle of compounding interest and what it can do for you, Read More...
Have you wondered why most people are never able to appreciate the miracle of most of the financial products?
Do you feel there is something fishy behind aggressive marketing campaigns of big banks and finance companies?
Did you know, high return finance products like mutual funds can even make you poorer?
Not all that glitters is gold in the market, and you need to have a basic understanding of the financial products before you think of investing.
If you want to understand various financial products and the things they can do for you, Read More...
This is a comprehensive book that'll help you understand the basics of investing and how simple knowledge of rudimentary principles can be used for creating wealth.
This book will help you understand the reason why most active and experienced traders don't have average returns higher than 6-7%, while investors can easily make more than 10-11%.
It would help you understand that you don't need to be very active or experienced to excel in investing.
In this book you'll also find:
Comprehensive understanding of the art of investing
The way to evaluate your financial temperament
Basic preparations you'll need to make before investing
A detailed explanation of the miracle of compounding interest
Ways to invest even with meager means
Step by step explanation of various financial products including stocks, bonds, mutual funds, ETFs, index funds, dividend stocks, and IPOs
The ways to maintain your financial sanity
Explanation and importance of the concept of diversification and its impact
The ways to weigh risks and returns
The process of tracking your progress and rebalancing your portfolio
The right amount to save
The ways to save money and cut costs
Ways to manage your taxes properly
Important aspects of investing psychology that effects your results and sanity
Tips and tricks to stick to the path of investing
And Much More...
So if you're ready to start making money today, grab this book and start investing.