Married to Borderline Personality Disorder: Your BPD Stories of Roses and Rage (Paperback)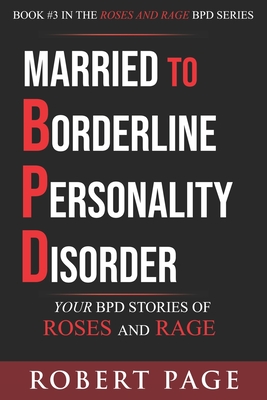 $10.99

Warehouse, In Stock | Usually Ships in 1-5 Days | New
Description
---
Is there hope for spouses of BPD?
Feeling overwhelmed by conflicting information?
It's time for insight from others who have already faced borderline personality disorder before you. And wouldn't you love a book written in non-clinical, compassionate language by someone who has been in your shoes rather than a clinician writing to impress other clinicians?
Married to Borderline Personality Disorder
is the first book entirely centered around unfiltered accounts from spouses of BPD. To add even more perspective, you'll also hear from those
with
BPD.
You'll find yourself shouting out loud,
"That's exactly what happened to me," as both men and women intimately share what it's like to confront and live with BPD in a marriage. Each of their stories is like a graduate course in how to navigate BPD and narcissistic behaviors. Be assured, you
are not
the first spouse to face these problems. You
can
find explanations to your spouse's logic-defying actions.
The author, Robert Page, has been through it all:
weekends lost to arguments, endless false accusations, wild mood swings, manipulative threats, self-harm, being isolated from friends, public embarrassment, $1,000s in related expenses, and even criminal prosecution-all because he loved his wife too much to confront the root problem: her borderline personality disorder. Sound familiar?
You don't have to face being the spouse of BPD alone.
You can avoid the mistakes made by others often involving emotional and physical abuse, financial ruin, and even jail time. There are actions you can take to save your marriage, your happiness, and maybe even someone's life.
Much more than a clinical checklist
of BPD symptoms, you'll learn all about the disorder through the vivid and sometimes cringe-inducing accounts of others married to a BP. These "been there-done that-what I should have done" revelations are invaluable on your path to reducing BPD stress in your life
You'll be so relieved you found this book
because you'll see yourself in the riveting first-person accounts and realize there are roses to be found beyond the rage. Get your copy today and begin reclaiming your self-respect and positive outlook.
Want to know more?
Inside this book of stunningly personal revelations you'll find all this and more:
The most recent official descriptions of BPD explained in everyday language
Harrowingly truthful accounts as shared by readers of Robert Page
Facts to help you decide if your undiagnosed spouse has traits of BPD
Actions you can take to control a rage-filled environment
What efforts might save your troubled relationship
Order your copy now.