Bitcoin and Cryptocurrency for Beginners: A Beginner-Friendly Guide to Grow Your Financial Future by Investing in Digital Currencies Including Mining (Paperback)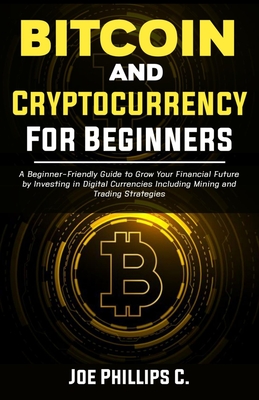 $12.99
This item is backordered and not currently available. Please contact us for an estimated availability date.
Description
---
A Beginner-Friendly Guide to Bitcoin, Blockchain, and Cryptocurrency Technologies
Cryptocurrency, popularly called 'crypto, ' has become a global phenomenon known by most people but understood by few Cryptocurrencies have become all the rage over the last few months, especially after the meteoric rise in Bitcoin price some years back.

It used to be that cryptocurrency investing was for experts and savvy investors. However, because of its enormous popularity and success over the years, things have changed
We've heard stories of people becoming overnight millionaires and, at the same time, stories of people who lost hundreds of thousands of dollars hoping to make a quick buck.
If you are looking to invest in crypto SAFELY, then this book for you.

This is a preview of what you'll learn:

The fundamentals of the blockchain technology

Mining and why we need it
How you can buy Bitcoin, Ethereum, and other cryptocurrencies TODAY
How to safely store your cryptocurrency after you've bought it
How to avoid scams
How to buy a coin from exchanges
The different type of wallets

And much, much more
However, like any investment, cryptocurrencies carry certain risks.
That's why we've created this book to help you stay informed and armed with the best knowledge possible - broken down into easy, digestible language.

Reduce your risk and learn the safest way to buy, store, and profit from cryptocurrency.

This book will help you understand blockchain technology, grasp the intricacies of Bitcoin and show you how to make it a profitable part of your investment portfolio.

Scroll up and click on the BUY NOW button to begin making money today