Tracing Letters & Numbers Practice Workbook For Kids; My first learn to write workbook for alphabet, numbers, words, and shapes practice; Handwriting (Paperback)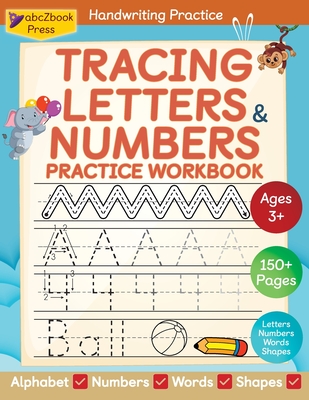 $11.94
This item is backordered and not currently available. Please contact us for an estimated availability date.
Description
---
Letter and Number Handwriting Practice book for kids.
This "Letter & Number Tracing Practice Workbook" is the handwriting practice book for kids. This book features several sections to cover the foundation of writing to learn the alphabet, numbers, shapes, and words. Lots of activities to keep the kids engaged and provide an interesting experience.
This book prepares the kids for the next level with properly structured content. In addition to the writing exercise, plenty of pictures for kids to color and unleash their coloring creativity. With the help of repetitive exercise, kids get familiar with the writing material and their writing and memory skills get improved.
This book has the basic fundamentals which improve the kid's handwriting with dot-to-dot tracing and motivate them to write alphabet and words. This book also helps the kids to visualize and recognize numbers. Handwriting practice book develops motor skills and memory skills. This book is suitable for preschoolers, pre-K, kindergarteners, and Grade 1 kids.
Table of Contents:
-Section 1: Tracing Lines and curves - Start with the simple lines and practice different strokes This will help kids to control their motor skills. Have fun with different types of lines.
-Section 2: Tracing Shapes - Kids recognize different shapes and trace them properly with the experience from the line tracing.
-Section 3: Drawing tracing - apply the skills from the line and shape tracing to complete the drawing. Color the different shapes with sketch pens or crayons.
-Section 4: Alphabet writing from A-Z - Trace lines on both uppercase and lowercase letters of the alphabet. Enjoy coloring the picture that is associated to each letter. Practice the directional letter and challenge the kids to trace letters without direction.
-Section 5: Numbers writing from 0 to 30 - Trace lines on numbers o to 30. Enjoy coloring the individual picture that is associated with each number. Practice the directional number with the marking and challenge the kids to trace letters without direction.
-Section 6: Writing single words (Alphabet A-Z) - Trace lines on the simple words and color the pictures.
-Section 7: Writing single words (Number 0 to 20) - Practicing the number words from 0 to 20
-Section 8: Writing Shapes names - Line practicing the names of the shapes
-Section 9: Writing Test - Alphabet and Numbers - Kids get to test their skills in both alphabet and numbers writing.
-Section 10: Alphabet & Numbers Chart - Keep all alphabet and numbers in one place. Cut this page and place it next to the kids writing desk.
-Section 11: Blank Handwriting Practice - Reproduceable handwriting practice pages for kids to write the alphabet, numbers, and words independently.
-Section 12: Certificate of completion for appreciation - Cut this page and place it on the wall to celebrate the completion of this book.
This handwriting practice workbook is perfect for homeschooling, and a great supplement for school independent learning activities. Children get plenty of practice with this book. Get 15 minutes of handwriting practice every day so that kids can excel in writing and reading Letter & Number Tracing Practice Workbook is an essential practice book for building handwriting skills for kids ages 3 and up.
Learn to write ABC and numbers with fun pictures Get today for your little smart kids