Tarka the Otter (Paperback)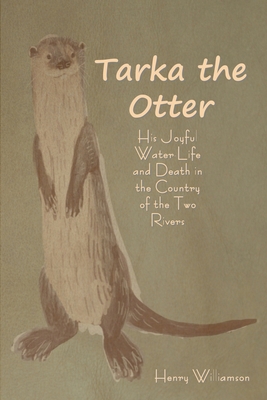 $16.74

Warehouse, In Stock | Usually Ships in 1-5 Days | New
Description
---
Tarka the Otter: His Joyful Water-Life and Death in the Country of the Two Rivers is a novel by Henry Williamson, first published in 1927 by G.P. Putnam's Sons with an introduction by the Hon. Sir John Fortescue. It won the Hawthornden Prize in 1928, and has never been out of print since its first publication.
The novel describes the life of an otter, along with a detailed observation of its habitat in the country of the River Taw and River Torridge in North Devon (the "Two Rivers"); the name "Tarka" is said by Williamson to mean "Wandering as Water" (p. 10). Although not written for children, the book soon became popular with young readers, and also has influenced literary figures as diverse as Ted Hughes and Rachel Carson.
Williamson, who was born in London and had moved to Georgeham, Devon, in 1921, began making notes for Tarka about two years later: although he was usually a rather rapid writer, the book took him around four years to write thanks to the large amount of detailed research needed. Williamson often claimed that he was inspired to write Tarka after rescuing and raising an otter cub, but the truth of this story is uncertain and it seems likely that the 1909 book The Life Story of an Otter, by Cornish naturalist John Coulson Tregarthen, was a more substantial influence. Nevertheless, Williamson spent a great deal of time gathering information on otters' habits and behaviour.
The original edition featured illustrations by Charles Tunnicliffe. The book was extremely well-received on publication, attracting praise from Thomas Hardy and T. E. Lawrence, amongst others. Although not written for children, the book soon became popular with young readers.
At the time the book was published, otters were generally regarded as vermin, but Tarka (and more specifically its later film adaptation) is credited with inspiring a transformation in public attitudes to otters. The book remains well-known, and is often used to promote the area of North Devon where it is set. The Tarka Line railway line to Barnstaple, and Tarka Trail long distance footpath and cycle path, are named after the book.
Although Williamson's reputation as a writer was affected in the wake of his support for Oswald Mosley and many of his works are now little read, Tarka has continued to be an influential work. Rachel Carson once wrote that Williamson's work had "deeply influenced" her and said that Tarka the Otter and Salar the Salmon would be two of three books she might take to a desert island. Ted Hughes, who later became friends with an elderly Williamson, repeatedly cited reading the book as an important experience for him, while the author Roger Deakin wrote that he admired the "beauty and ice-clear accuracy" of Williamson's writing and described Tarka as a "great mythic poem".
Others to whom the book was significant included the nature writers Kenneth Allsop and Denys Watkins-Pitchford, who described it as "the greatest animal story ever written".
The book has led to Britain's Tarka Trail and to the establishment of the Tarka Country Tourism Authority in North Devon. (wikipedia.org)