Brilliant Breakthroughs For The Small Business Owner (Hardcover)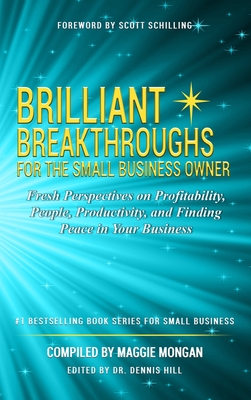 List Price: $25.95
Our Price: $22.06
(Save: $3.89 15%)
Warehouse, In Stock | Usually Ships in 1-5 Days | New
Description
---
Maggie Mongan takes the torch from Peter Drucker, the grandfather of modern business, to fuel the next generation of SBO leadership. Maggie and her latest Brilliant Breakthrough team of practitioner experts bring it in this go-to playbook for SBOs. The 3rd. Industrial Revolution of today demands psychological consciousness that is collaborative and highly aware of the world. With volumes one through four, this fifth and final installment delivers everything the SBO needs to meet today's challenge. The fifth edition Brilliant Breakthroughs team tackles the most pressing and relevant hurdles SBOs encounter in a disrupted world. Let's face it, jobs and small businesses are vulnerable due to robotics and intelligent technologies that already thinned the ranks of mass service providers, and the global pandemic didn't help. SBOs were hit as hard or harder but still managed to backbone the American economy and dream. Whether you are a new business owner or a seasoned entrepreneur, tether your success to this team of SBO dynamos who delivered consistently over time.
- Dr. Ellema Albert Neal President, Forerunner Coaching & Advisory Group, & Author, In a Perfect World: Man in Relationship trilogy
As successful Small Business Owners and Brilliant Practicing Expertstm, our authors understand the power of blending best practices and unconventional techniques to grow a business. We're sharing our winning formulas to help you determine which activities truly drive profit, how to develop and nurture people as your greatest asset, discover new approaches to be more efficient, and build a peacefully performing business so you can step into your potential.
Small Business Owners no longer need to let their business success be determined by chance. A new way of conducting business is here.
This is the fifth book in this #1 Bestselling Book Series for Small Business. Our annual book releases coincide with the beginning of November, which is National Entrepreneurs Month. Our endgame? Small Business success becoming more commonplace.