Broken: The Suspicious Death of Alydar and the End of Horse Racing's Golden Age (Hardcover)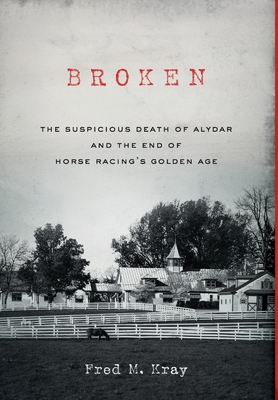 $26.95

Warehouse, In Stock | Usually Ships in 1-5 Days | New
Description
---
One fateful winter night, a famous racehorse mysteriously broke his leg while alone in his stall. An investigation ensued, but the real story has never been told...until now.
It was a cool, quiet evening at Calumet Farm, where the most valuable racehorses-including the prolific stallion Alydar-had settled into their stalls for the evening. Alton Stone, filling in for the regular night watchman, completed his rounds at the barn. Although nothing seemed out of the ordinary, an inexplicable hunch led Stone to check on Alydar. What he found-a grievously injured horse with no discernible cause-jump-started one of the biggest mysteries to ever hit the horse racing world.
One part true-crime investigation, one part evocative history of the adrenaline-filled days of horse racing's golden age, Broken follows Alydar's rise to fame and then dives into the sordid details of the crime and trial that came to define his legacy. Told with the taut pacing of a legal thriller, Broken investigates Alydar's death, the $41.5 million insurance payout, and the stain it left on the sport of horse racing.
Throughout, animal rights attorney and author Fred M. Kray weaves together shocking testimony and key evidence from the trials, featuring dramatic photos taken the night of the incident. Drawing on interviews conducted with more than twenty-five key witnesses, Kray reveals insider-only details and, in order to discover the truth about the death of this magnificent horse, embarks on a major investigation-one that leads to an unexpected and startling conclusion.