Historical Florida Novels
May 12, 2022
8 Books To Try If You Loved A Land Remembered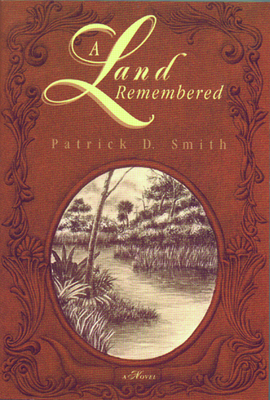 Easily the most-requested book in our shop, A Land Remembered is a generational saga set in the early days of the Florida frontier. "In this best-selling novel, Patrick Smith tells the story of three generations of the MacIveys, a Florida family who battle the hardships of the frontier to rise from a dirt-poor Cracker life to the wealth and standing of real estate tycoons. The story opens in 1858..."
Smith did write several other novels (including Allapatah, Angel City, and Forever Island, which are also set in the Sunshine State). But once you've devoured Smith's other books, it can be hard to find more like them. I've been a bookseller in Florida for almost thirteen years, so I've had time to put together a pretty good selection for you.
The Cracker Western series
Most of these are written by Lee Gramling but a few other authors contributed as well (Bridger's Run, Guns of the Palmetto Plains, Wiregrass Country, Alligator Gold). The series is in the midst of a reprint, so if you have any trouble finding the right edition please let me know! I can always check on it for you and update the link/editions if need be.
Blue Asylum (2012) by Kathy Hepinstall
"Amid the mayhem of the Civil War, Iris Dunleavy is put on trial by her husband, convicted of madness, and sent to Sanibel Asylum to be restored to a compliant Virginia plantation wife. But her husband is the true criminal; she is no lunatic, only guilty of disagreeing on notions of cruelty and property. On this remote Florida island, Iris meets a wonderful collection of inmates in various states of sanity, including Ambrose Weller, a Confederate soldier haunted by war, whose dark eyes beckon to her. Can love in such a place be real? Can they escape, and will the war have left any way—any place—for them to make a life together?"
Cross Creek by Marjorie Kinnan Rawlings
"Originally published in 1942, Cross Creek has become a classic in modern American literature. For the millions of readers raised on The Yearling, here is the story of Marjorie Kinnan Rawlings's experiences in the remote Florida hamlet of Cross Creek, where she lived for thirteen years. From the daily labors of managing a seventy-two-acre orange grove to bouts with runaway pigs and a succession of unruly farmhands, Rawlings describes her life at the Creek with humor and spirit. Her tireless determination to overcome the challenges of her adopted home in the Florida backcountry, her deep-rooted love of the earth, and her genius for character and description result in a most delightful and heartwarming memoir."
Maria by Eugenia Price (1977)
"In this captivating tale, Eugenia Price paints a vivid picture of the tumultuous historic and political events that shaped the life of a remarkably independent woman in the colonial south... When Spain agrees to give all of Florida in exchange for the city of Havana, Maria and her husband are forced to relocate to the newly British garrison town of St. Augustine, Florida. Faced with challenges that would unnerve a less resourceful woman, Maria makes a name for herself-developing and enhancing her position with influential citizens of St. Augustine. Eventually marrying three times, Maria proves herself to be an extraordinary woman-for any day or time." First in a trilogy.
"Killing Mister Watson, Lost Man's River, and Bone by Bone (Peter Matthiessen's great American epic about Everglades sugar planter and notorious outlaw E. J. Watson on the wild Florida frontier at the turn of the twentieth century) were originally conceived as one vast, mysterious novel. Now, in this bold new rendering, Matthiessen has marvelously distilled a monumental work while deepening the insights and motivations of his characters with brilliant rewriting throughout."
"When Andrew Jackson declared war on the Seminole, he never envisioned battling a people who would become symbols of courage, loyalty and patriotism. In the vast, alligator-infested swamps of the Everglades they confounded the U.S. Army. Unable to win militarily, the Seminole were captured under flags of truce and transported to Oklahoma Territory. They are the only tribe never to surrender or sign a peace treaty."
Runaway (1994) by Heather Graham
First in a series of Florida Civil War era historical romance novels. "New York Times bestselling author Heather Graham recreates the tumultuous history of America's least-known frontier, Florida, in a love story that burns with passion and truth." Published over about six years, the other titles include: Captive, Rebel, Surrender, Glory and Triumph. Their print status comes and goes but so far I've been able to keep them in stock most of the time!
By Reef and Trail: Bob Leach's Adventures in Florida (1909)
"Set in pre-1900 Florida, this story of a young Florida cracker becoming a man is set in the natural world of a bygone Florida. It gives a unique, contemporary glimpse into an unspoiled, and virtually uninhabited Florida. Includes the original glossary and Outdoor Advice from the original 1909 edition and includes illustrations by Charles Livingston Bull, illustrator of Jack London's first edition of Call of the Wild."
The Floridians by Ann O'Connell Rust
Unfortunately this series is out of print so they can be difficult to find. I included it here anyway though because it really does belong! (And sometimes we have used copies in stock.) The series includes Punta Rassa, Palatka, Kissimmee, Monticello, and Pahokee.